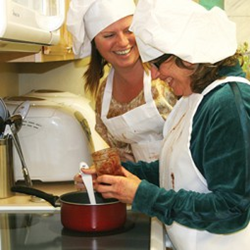 The entire staff at TERI, Inc is so excited about our new website.
San Diego, CA (PRWEB) June 04, 2015
TERI Inc, launched their newly updated website on Wednesday, May 20th. The site underwent a complete overhaul with the help of San Diego based Label Creative through a gift-in-kind donation from The Control Group.
"The entire staff at TERI, Inc is so excited about our new website. Our Campus of Life will be the biggest benefactor from the efforts that The Control Group and Label Creative put into the rebuild of our website. We are looking forward to utilizing this new website to help more people learn about our great cause and to complete our new campus for the young adults and children we serve," says Cheryl Kilmer, TERI CEO & Co Founder.
The re-designed website focuses on the members of the TERI community as well as the various programs they offer to children and adults with special needs. TERI specializes in serving individuals who have needs which cannot be met by other existing programs. This includes services to persons who have autism, intellectual disabilities, cerebral palsy, epilepsy, brain trauma, severe behavioral disorders, dual diagnoses, and learning disabilities.
TERI is one of the many organizations that The Control Group supports as part of its Corporate Social Responsibility program. "We are honored to help do our part to help TERI reach out to fellow like-minded individuals that are willing to do their collective part to help the TERI cause. Every cent helps and hopefully this new site will help reach a new group of compassionate donors and supporters," said Sean Shahrokhi, Director of Communications and PR for The Control Group and TERI Capital Committee Member.
TERI's Campus of Life will offer innovative facilities and cutting edge research in an environment of community, acceptance, and empowerment of each individual. The Campus will work as a prototype for similar organizations to utilize on a global level. To find out more about TERI, Inc. and The Campus of Life, please visit the TERI website at http://www.teriinc.org.
*******
About The Control Group
Created in 2011, The Control Group is one of the fastest-growing technology companies headquartered in San Diego. Their expertise is in web development and internet marketing. The company is the developer of InstantCheckmate.com, one of the top people search engines in the world. Because the company is already profitable, it has been able to develop a company culture that is shaking up the Southern California business community. Core to the company culture is its reach into the community to make a positive impact by volunteering and getting involved in important causes
About Training, Education, Research & Innovation (TERI, Inc.)
Founded in 1980, TERI, Inc. is a private, non‐profit 501 (c)(3) California corporation. Its mission is to improve the quality of life for children and adults with developmental disabilities and learning disabilities, specializing in serving individuals who have needs which cannot be met by other existing programs. TERI looks to the future by continuing its commitment to set new standards through establishing model programs, conducting applied research in best practices and procedures and offering training and consultation to professionals, families, and community members. Recognized as a model program in the State of California for the quality of services it provides to its clients, TERI relies on donations from the community and foundations in order to continue to set the highest standards and ensure an uncompromised quality of life to its population. For more information, visit http://www.teriinc.org.