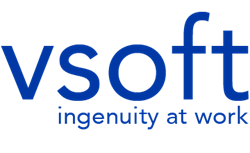 Atlanta, GA (PRWEB) June 03, 2015
VSoft Corporation, a global provider of information and technology solutions for financial institutions, announced today it will be hosting a webinar series to introduce their new IRIS omni-channel banking solution.
Christian Tomooka, AVP of Solutions Engineering for VSoft Corporation, will present the webinar "IRIS Omni-Channel Banking: A True Anywhere Banking Experience" beginning June 17, 2015. Financial institutions interested in omni-channel banking will learn about the benefits and latest trends in the financial industry. The webinar will also highlight VSoft's IRIS platform, which streamlines multiple banking channels under a single access point providing users with a consistent banking experience.
VSoft will host four webinars on June 17, July 1, July 15 and July 29. All sessions will be held from 2:00 p.m. to 3:00 p.m. ET. To register, please visit http://www.vsoftcorp.com/iris-webinar-series/.
About VSoft Corporation
VSoft Corporation offers platform-based services for the banking, financial services and insurance (BFSI) industry. Its core and payment processing services reduce cost and maximize efficiency while providing seamless, real-time, high-volume and high-performance transactions across multiple channels. The VSoft platform can be delivered in-house or as an outsourced ASP or SaaS model to best meet the needs of individual financial institutions. VSoft's services have been trusted by more than 2,600 financial institutions worldwide. For more information, please call 770-225-7692, or visit http://www.vsoftcorp.com, or follow them on Twitter @VSoft_Corp.