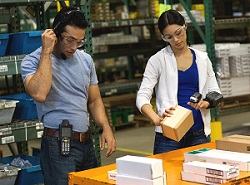 It's exciting to be at IRCE with our latest logistics solutions, which are a perfect fit for online retailers who are balancing explosive growth with the need to control operational costs. - Bob Fischer, CEO, ADSI
Schaumburg, IL (PRWEB) June 02, 2015
Advanced Distribution Solutions, Inc. (ADSI) is demonstrating its latest line of mobile order fulfillment and multi-carrier shipping software solutions on June 2 – 5, 2015 at the Internet Retailer Conference and Exhibit (IRCE), Booth 1870, at McCormick Place West in Chicago, IL.
Scalable Order Fulfillment and Shipping Solutions for Growing Online Retailers -- ADSI is a longtime exhibitor at the IRCE show, which is attended by many of its customers. "It's exciting to be at IRCE with our latest logistics software and hardware solutions, which are a perfect fit for online retailers who are balancing explosive growth with the need to control operational costs," said Bob Fischer, president and CEO of ADSI. "Mobility is the answer. We help companies reduce costs by providing intuitive mobile logistics solutions that enable their workers to move to wherever the work is."
Purpose Driven Devices for Advanced Productivity -- ADSI will demonstrate its logistics software on a range of handheld mobile computers, ring scanners and wrist computers designed for industrial environments. These solutions enable workers to accurately pack, verify and ship orders in seconds. ADSI's newest release combines its Pack-IT order packing software, Ship-IT multi-carrier shipping software and built-in advance ship notice (ASN) and SaaS based EDI tools powered by SPS Commerce.
Dimensioning Tools -- ADSI will also demonstrate Size-IT, its wireless digital mobile dimensional weight calculator at the show. "Online retailers need to accurately capture package dimensions or unexpected shipping costs will quickly erode their profit margins," said Fischer. "Size-IT solves this by making it easy to capture, calculate and upload dimensional weights into their shipping system." In addition to Size-IT, ADSI also sells and integrates its shipping system to a complete line of static and in-motion weighing and dimensioning solutions.
Enhanced Carrier Portfolio Management -- Shippers who are looking for ways to curb shipping costs will also see how they can add and compare global, regional and local carrier rates and services on Ship-IT, the company's multi-carrier shipping software. "Ship-IT is a carrier-agnostic shipping system that enables companies to modify their carrier portfolio as their business changes. Our extensive Ship-IT Carrier Library offers a great resource to automate the process."
About ADSI -- ADSI is an industry-leading provider of flexible logistics software solutions for online retailers, manufacturers, distributors, third party logistics providers (3PLs) and others. ADSI's solutions include Pack-IT, a mobile, scan-based order fulfillment solution, Ship-IT™, a multi-carrier shipping software solution for domestic and export shipping, SaaS shipping software, as well as modules for asset and inventory tracking; delivery tracking; dimensional weight calculation, mobile computing and more. ADSI is a Premier Zebra Technologies Partner, a ConnectShip® Platinum Partner, a FedEx Top National Solution Provider, a UPS Ready Certified Partner, a U.S. Postal Service Top National Partner and a Motorola Elite Level Channel Partner.