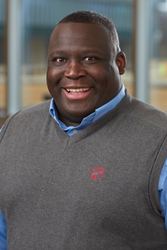 St. Louis, MO (PRWEB) June 02, 2015
The Accreditation Council for Business Schools and Programs presents the award to outstanding individuals who exemplify teaching excellence in the classroom.
Williams will be honored at the ACBSP Conference 2015 to be held in June in Philadelphia, Pa. As a regional recipient, Williams is now a candidate for the organization's international teaching award.
"Maryville is focused on creating a student-centered sport business management program that features expert faculty, real world learning through business partnerships and internships, and rigorous professional mentoring," says Williams, who also serves as director of Maryville's Rawlings Sport Business Management program. "I'm honored by this teaching award, and appreciate the attention it brings to our program's success."
Graduates of the Rawlings Sport Business Management program consistently land employment with key professional sports teams and sport business organizations across the United States.
"It is more important than ever for business programs to produce graduates who are ready to enter the global marketplace," said Jeffrey Alderman, ACBSP chief executive officer. "ACBSP has a mission to develop, promote and recognize best practices that contribute to continuous improvement of business education. Recognition of teaching excellence is one way we achieve this goal."
About Maryville University:
Founded in 1872, Maryville University is a selective, comprehensive, and nationally ranked private institution with an enrollment of nearly 6,000 students. Maryville offers more than 70 degrees at the undergraduate, masters and doctoral levels to students from 50 states and 32 countries.
Media Contact:
Marcia Sullivan
Vice President, Integrated Marketing & Communications
Maryville University
341.529.9340
Marcia(dot)sullivan(at)maryville(dot)edu