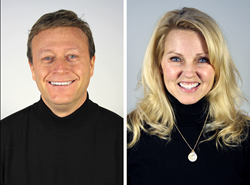 It's an honor to be recognized for our continued leadership and impact on business travel.
Lexington, KY (PRWEB) June 03, 2015
Creative Lodging Solutions, a leading corporate lodging management company, wins three categories in the 2015 CEO World Awards. President and CEO Michael Tetterton has been named a Founder/Entrepreneur of the Year Gold Winner, CFO Marsha Couch was selected an Executive of the Year Gold Winner, and Creative Lodging Solutions won Best Overall Company of the Year.
The CEO World Award program encompasses the world's best in leadership, innovation, and organizational performance in every major industry from around the world. The winners will be honored at next month's awards ceremony in San Francisco. The annual CEO World Awards is part of the SVUS Awards recognition program from Silicon Valley.
"It's an honor to be recognized for our leadership and impact on business travel," says CEO Michael Tetterton. "Marsha's work in developing an innovative new revenue stream has been integral to Creative Lodging Solutions' continued fast-growth and in shaping the future of the company."
Creative Lodging Solutions provides customized lodging programs for corporate clients nationwide, focusing on long-term and project based stays. The company has also been recognized as one of the Best Places to Work in Kentucky the past six years, named to the Inc. 5000 list of fastest growing private companies in America five years running, and Tetterton was recently announced as an EY Entrepreneur of the Year finalist.
About Creative Lodging Solutions:
Creative Lodging Solutions (CLS) is an award winning corporate lodging services provider that is passionate about great travel management service and the difference it can make to its business travelers, hotel partners and community. Launched in 2002, CLS aims to disrupt the business travel industry by combining the values of flexible hotel and corporate apartment solutions with reliable travel expense and billing management. CLS reserved over 10 million traveler nights by offering volume discounts and easy hotel management to companies with over $250,000 in annual hotel travel. For more information, visit http://www.yourcls.com.