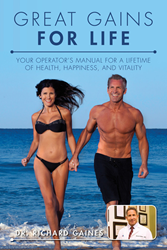 I have written this book to be your personal instruction manual for living happier and healthier well into your middle age and beyond
Miami, FL (PRWEB) June 04, 2015
Richard Gaines, M.D., FAARM, ABAARM, is proud to announce the publication of his first full-length book Great Gains for Life: Your Operator's Manual for a Lifetime of Health, Happiness, and Vitality (ISBN: 1511487976).
According to Dr. Gaines, "Historically speaking, reaching old age is a feat that should be celebrated, but in today's world most people see it as something to stave off for as long as possible. But what if aging doesn't have to debilitate you? I have written this book to be your personal instruction manual for living happier and healthier well into your middle age and beyond."
At the age of 61, Dr. Gaines recently came in first place in a 5K run. He hang-glides, skydives, kite boards, rock climbs, and extreme skis. He does not let his age keep him from living his life to the fullest, and he believes he can help everyone do the same.
The book offers 15 comprehensive chapters that takes the reader through the latest scientific theories about how and why we age, and offers practical advice on fitness, diet, and lifestyle changes designed to have you feel, look, and perform your best at any age.
The book also dispels many myths and misconceptions about hormone replacement therapy for both men and women, and discusses the many proven benefits of bioidentical hormone optimization.
"This book basically is a road map for healthy living," says Gaines, "that not only increases your vitality, it will also provide you with sensible ways to avoid the typical diseases that can shorten your life, such as obesity, diabetes, heart disease, and cancer."
The book is available now on Amazon.
About the Author:
RICHARD GAINES MD, FAARM, ABAARM, is a leader in the rapidly evolving science of physician-guided age management. Educated at Boston University School of Medicine, Tufts University School of Medicine, and Harvard Medical School, he worked as a physician and health-care executive for thirty years before founding the antiaging medical practice, HealthGAINS.
# # #
HealthGAINS is one of the nation's leading providers of physician-guided age management solutions, including hormone replacement therapy, platelet rich plasma, and sexual wellness treatments for men and women. HealthGAINS has a network of over 25 affiliates throughout the United States. For more information, visit healthgains.com