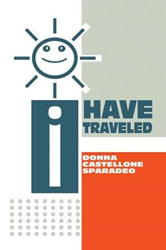 (PRWEB) June 09, 2015
"I Have Traveled" is the story of one woman's journey to gain self-confidence, even when all the odds are stacked against her.
The author's story begins in the late 1940s with a little girl's vision. She tries to understand why life's struggles are so hard, and why events were set in motion to make her fail. Over the next 40 years, her journey continues as she overcomes child abuse, death in the family, homelessness, and heartbreak, using her dreams as a compass to guide her forward. Her goal is a path to purity and a happy family life.
The drive to find normalcy and peace become a badge of courage. Learning to forgive herself and others, she is guided by angels, and lives her life believing in the God that her religiously zealous mother taught her about while growing up. There are many stages in life, and all must be traveled through and overcome.
About the Author: Donna Castellone Sparadeo was encouraged to write by fellow bloggers. She was born in Providence, Rhode Island, and later moved to Naples, Florida. This is her first book.
I HAVE TRAVELED (ISBN: 978-1-62212-340-7) is now available for $10.95 and can be ordered through the publisher's website:
http://sbprabooks.com/DonnaCastelloneSparadeo or at Amazon.com or Barnesandnoble.com.
WHOLESALERS: This book is distributed by Ingram Books and other wholesale distributors. Contact your representative with the ISBN for purchase. Wholesale purchase for retailers, universities, libraries, and other organizations is also available through the publisher; please email bookorder@sbpra.net.