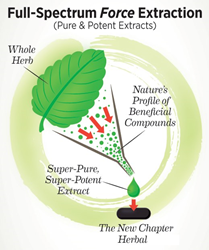 We are very excited to announce a 45% off sale on all New Chapter Force Herbals for the month of June.
(PRWEB) June 03, 2015
"It's the high antioxidants, the high phenolic source, the promise of the science, and the solvent-free extraction that make all the Herbals in the Force line a real New Chapter story," says New Chapter's Founder, Formulator, and Master Herbalist, Paul Schulick.
New Chapter, in a recent release, stated, "Similar to all other New Chapter products, Force herbal extracts are delivered using the wisdom of whole food. Using only solvent-free methods, including supercritical CO2 extraction, New Chapter's natural Force herbal extracts guarantee the fullest spectrum of beneficial phytonutrients in their natural profile. The full-spectrum extraction process used by New Chapter is the gentlest way to extract delicate plant compounds in a manner that optimally preserves their potency and stability.
"New Chapter's Force herbal extracts are one-of-a-kind, in an industry that too often accepts products that isolate out single ingredients or spike their extracts with synthesized additives. New Chapter delivers the Wisdom of Nature by preserving the herb's whole natural profile of beneficial compounds and organic nuances, many of which are lost or discarded when herbs are fractionated or altered."
According to Gail Bowman, owner of Health Food Emporium, "The new Liquid formulations in the New Chapter Force line demonstrate New Chapter's commitment to cleaner, Non-GMO formulations. We are very excited to announce a 45% off sale on all New Chapter Force Herbals for the month of June."
Cinnamon: Cinnamon possesses a unique power amongst botanicals by assisting in the body's conversion of sugar (glucose) into energy. Cinnamon Force promotes healthy weight management by helping glucose create immediate cellular energy instead of stored potential energy in the form of fat deposits.
Garlic: Garlic Force delivers a widely studied and popular tonic herb, recommended for various uses by researchers and herbalists alike.
Ginger: Ginger Force supports blood platelet health and cardiovascular function, in vitro. Active ingredients support the growth of beneficial intestinal micro-organisms, which are vital for intestinal health. Ginger Force supports a healthy inflammation response.
Turmeric: Turmeric has been shown to help maintain a healthy inflammation response and is one of the most studied botanicals in modern science. Turmeric also supports cardio and liver health.
Gail Bowman is the owner of Health Food Emporium and can be reached at 888-244-8948