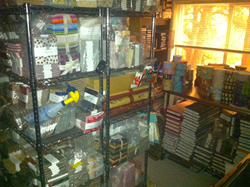 A sense of humor is one of the things that got us through the fire, so we wanted to share that with our customers.
Colorado Springs, CO (PRWEB) June 03, 2015
Almost three years after losing over $3,000,000 worth of inventory in the flames of the Waldo Canyon Fire, Jelly Rolls 2 Go launched a new website today. The new layout adds greater functionality for the growing audience of mobile and tablet users.
"Using a cellphone or tablet to shop for quilting fabric," said Christine Poley, Founder of Jellyrolls2go.com, "wasn't something we were seeing a lot of before the fire. It took us almost three years to build Jelly Rolls 2 Go back from the ashes, and now that we're back, the common shopping experience has changed. Quilters and crafters are shopping from their phones. So, with an entirely rebuilt store and stock behind us we are excited to reconnect with our customers on the mobile platform."
Visitors to the website will not only find it easy to navigate but also filled with content. More videos, projects, and articles were launched with the new site and more will continue to be released over time. One video, "The Quilt King," humorously highlights the expanded Rewards Club benefits offered to customers looking to save on jelly roll fabric purchases.
"Most of us look at some funny cat or pig or animal video on our phones almost every day," said Jeremy Poley, Internet Marketing Manager for Jelly Rolls 2 Go. "Having a website that's built for mobile users makes it really easy to load video content, which everyone is connecting with today." Poley added: "We also want to show a little bit more of the personality at Jelly Rolls 2 Go. A sense of humor is one of the things that got us through the fire, so we wanted to share that with our customers. Our website isn't just a cold collection of pictures and words - it's a window into who we are as a company and what we value. We feel our upcoming videos reflect that well."
About Jelly Rolls 2 Go:
Jelly Rolls 2 Go is a Colorado Springs- based quilting fabric store. The company offers pre-cut fabric collections such as jelly rolls, fat quarters, layer cakes and charm packs.  They not only specialize in rare and old fabric collections, but create their own unique cuts and quilt kits not found anywhere else. For more information about Jelly Rolls 2 Go, visit jellyrolls2go.com - jelly roll fabric, quilt kits, fat quarters and more.