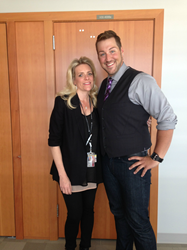 Be ready for the bumps in your road. While you can't control the unexpected you can control how you handle the situation
Aurora, Colo. (PRWEB) June 03, 2015
Every episode of the hit ABC series "Extreme Weight Loss" Season 5 begins at the University of Colorado Anschutz Health and Wellness Center at the Anschutz Medical Campus in Aurora, Colo. Holly Wyatt, MD is associate director of the center and medical director for the TV show. She is affectionately known as "Dr. Holly" to the show's cast members and her patients.
Each week, Dr. Holly watches the show then records a video blog offering fans her insight plus advice on how to begin, or continue, their own weight loss transformation journeys.
Dr. Holly describes this episode as a "bumps in the road" episode and says it's one of her favorites. Both Josh (Omaha, NE) and Kelli (Kansas City, MO) had faced huge unexpected challenges in their lives and they impressed Dr. Holly with how hard they worked to overcome them. In the end, Josh came to terms with the tragic death of his father and Kelli put the disappointing end of her college basketball career behind her.
Dr. Holly's observations:

Both Josh and Kelli were completely blind-sided by these huge and unexpected life events and when they didn't ask for help or work to get back on track, their lives and their weight spun out of control.
Watching Josh and Kelli finally take control, to bend but not break, to get back on course and rediscover their purpose reminded me that bumps in the road are a life lesson that we all must face and overcome.
Dr. Holly's advice:

Be ready for the bumps in your road. While you can't control the unexpected you can control how you handle the situation.
Recognize when you hit a bump and draw on your own strengths and resources to persevere. Ask for help. Decide that you will do what it takes to get back on course.
Dr. Holly's participation in the TV show inspired her to create the CU Anschutz Health and Wellness Center's first destination weight loss program. The weeklong Extreme Weight Loss: Destination Boot Camp is designed to provide participants with the tools they need to complete their own successful weight loss transformations— without the TV cameras! Limited space is available in upcoming boot camps and weight loss seekers are encouraged to learn more and register now.
The University of Colorado Anschutz Health and Wellness Center is recognized as a global leader in the fight against obesity. It offers some of the country's most advanced research and science-based expertise, focusing on a comprehensive weight loss and weight management approach, including fitness, nutrition and wellness services. Follow AnschutzWell on Facebook and Twitter.
"Extreme Weight Loss" is produced by 3 Ball Entertainment. JD Roth, Todd A. Nelson, Matt Assmus and Brant Pinvidic are the executive producers.