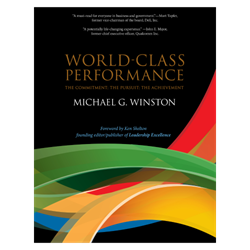 World Class Performance is "an original take on the leadership prescription for the ages. A must-read for current and emerging leaders."
Pompano, FL (PRWEB) July 15, 2015
Speaking from authority gained by leading Fortune 50 companies through structural transformation, Michael G. Winston celebrates the launch of his book, "World-Class Performance." Inspired by the skill and determination of Olympic athletes, Winston lays out concrete strategies to keep up with the increasingly competitive and complex global business environment.
Available now on Amazon.com, "W orld-Class Performance: The Commitment. The Pursuit. The Achievement," uses the Olympic athlete metaphor to inspire readers to regain their Olympic-like competitive edge and rekindle their desire to compete and win. Drawing on decades of experience in corporate America, Winston lays out a blueprint for the future of business and personal excellence that encourages individuals to perform at the top of their game while honoring their values and integrity.
"Change is occurring at a blistering pace, leaving many people unprepared" says Winston, who has shared podiums with Heads of State and given keynote presentations to hundreds of companies, "The leaders who dominate in this new era will not only understand the changes affecting them, but seize them, master them and use them to their advantage to achieve ever higher performance."
Ken Shelton, a key writer of 7 Habits of Highly Effective People, calls "World-Class Performance" a "masterpiece book" and "an Olympic achievement worthy of a Gold medal." Adding to the accolades, James Belasco, Founder of San Diego State University's Management Development Center, praises Winston's new book for being "an original take on the leadership prescription for the ages. A must-read for current and emerging leaders." Mort Topfer, Former Vice Chairman of the Board for Dell, Inc. agrees stating the book is "A must-read for everyone in business and government."
"World-Class Performance," published by Dragon Tree Books, includes chapters like "World-Class Competition," "Model the Olympics," "Organize by Design, Not Default," and "Developing the Next Generation." For more information, including a free sample chapter, visit http://www.worldclassperformancebook.com.
About the Author
With over thirty years of experience as a business leader, change agent, and organization strategist, Michael G. Winston has been in the "eye of the storm" of businesses going through massive transformation. He served in executive positions for five Fortune 100 companies across three industries (high technology, aerospace, and financial services), working on organization strategy and performance, succession planning, leadership development, and leading change. Michael was hailed by Leadership Excellence as one of the "100 Most Influential Thinkers on Leadership in the World for eight consecutive years. Michael's work has been recognized by his inclusion in several "Top Business Thought-Leaders" lists and over twenty "Who's Who" Editions. He has won numerous corporate awards for exemplary performance.
Michael G. Winston holds a PhD from the University of Illinois, a Master's Degree from the University of Notre Dame, and is a graduate of executive programs from Stanford University and the University of Pennsylvania's Wharton School.
World-Class Performance: The Commitment. The Pursuit. The Achievement.
By Michael G. Winston
Dragon Tree Books
February 20, 2015
Paperback, $14.99, 218 pages