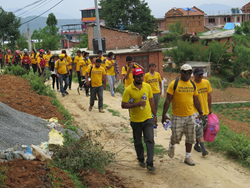 Los Angeles, CA (PRWEB) June 02, 2015
Villagers in the Kavrepalanchowk district of Nepal are living in the open, afraid to go back into the buildings that used to be their homes in the wake of a destructive series of earthquakes and aftershocks this past spring. This has left hundreds of thousands homeless, with monsoon season about to commence.
The earthquakes and aftershocks have seriously damaged or destroyed an enormous number of buildings and homes in the Asian nation. And while coping over the past four weeks has been difficult but manageable—April through early June being the season when the weather is warm and dry—the situation is fast approaching a crisis. Rains in Nepal are particularly severe from late June through September.
A team of Volunteer Ministers that traveled to this village, brought with them equipment to build tents and temporary housing for those in greatest need. And as many villages have additionally not had the benefit of medical care in the weeks since the original temblor struck, they brought along a group of medical doctors from India and Pakistan and paramedics from Colombia, brought to Nepal by the Scientology Volunteer Ministers Disaster Response to help fill the gap in an overtaxed and undermanned medical infrastructure.
It is hard work, but tremendously rewarding and very much needed. Volunteer Ministers wishing to join the disaster response team should contact the Scientology Volunteer Ministers Disaster Coordinator at DisasterResponse (@) VolunteerMinisters (.) org
Whether serving in their communities or on the other side of the world, the motto of the Scientology Volunteer Minister is "Something can be done about it." The program, created in the mid-1970s by L. Ron Hubbard and sponsored by the Church of Scientology International as a religious social service, constitutes one of the world's largest and most visible international independent relief forces.
The Volunteer Minister "helps his fellow man on a volunteer basis by restoring purpose, truth and spiritual values to the lives of others."
A global network of Volunteer Ministers mobilizes in times of manmade and natural disasters, answering the call wherever needed. Collaborating with some 1,000 organizations and agencies, they have utilized their skill and experience in providing physical support and spiritual aid at hundreds of disaster sites.