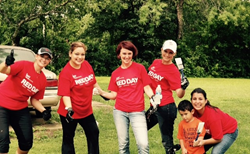 (PRWEB) June 03, 2015
Pam Rothe, a local realtor of The Rothe Group, is proud to announce her active participation in Keller Williams Realty's National Charity Event, RED Day, last May 16.
The real estate firm's RED (Renew, Energize, Donate) Day is an annual event where tens of thousands of realtors and vendors from across the United States and Canada come together to participate in a wide range of projects aimed towards renewing and energizing aspects of the local communities in which they serve.
Some of the notable activities initiated by RED Day include rebuilding homes, restoring local parks, assisting local food shelters, hosting blood drives, and cleaning up local beaches. The annual event is hosted by Keller Williams Realty and is considered an important part of the firm's culture, as it aims to show how a company can succeed when various individuals come together to help those in need.
As a top real estate agent in Texas, Pamela Rothe volunteers and devotes her time to charity events regularly, and considers initiatives such as RED Day close to her heart. This year's RED Day was her fifth time to volunteer in the annual event, and she believes that part of her immense success as a realtor could be attributed to those who have helped and supported her in improving local neighborhoods.
Pamela Rothe's passion and dedication to her career and community are evident in her work, as well as in her involvement in charitable organizations and events. 2015 has been a fruitful year for her thus far, having been recognized as one of the Top 20 Agents in the CityView Office for Written Volume and selling over $1.5 million in production last April. Rothe has also helped three major buyers find their dream homes and had three of her real estate listings gone under contract in record time.
To learn more about Pamela Rothe and her involvement in RED Day National Charity Events, visit http://www.pamelarotherealtor.com/.
About Pamela Rothe:
Pamela Rothe is recognized as one of the leading realtors at Keller Williams Realty, specializing in the residential sales, luxury homes, and first-time homebuyers' market. She is also an active volunteer and participant in various charities and fundraising events in San Antonio, TX. To learn more about Pamela Rothe and her contributions to the local real estate industry, contact her at 210.861.7350 or send her an e-mail at pamela_rothe(at)yahoo(dot)com.