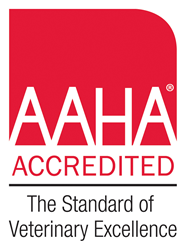 It is an honor to be recognized as one of the 15% of hospitals nationwide, who have earned this prestigious accreditation
(PRWEB) June 17, 2015
Montclair Veterinary Hospital has achieved the highest level of veterinary excellence following a thorough evaluation by the American Animal Hospital Association (AAHA). Montclair Veterinary Hospital earned AAHA accreditation after a rigorous review of the hospital's practice protocols, medical equipment, facility, and client service. http://www.MontclairVetHospital.com
Unlike human hospitals, not all animal hospitals are required to be accredited. In fact, only about 15% of all small animal veterinary hospitals in the U.S. have achieved AAHA accreditation.
Accredited hospitals are the only hospitals that choose to be evaluated on more than 900 quality standards that go above and beyond basic state regulations, ranging from patient care and pain management to staff training and advanced diagnostic services. AAHA-accredited hospitals are recognized among the finest in the industry, and are consistently at the forefront of advanced veterinary medicine. AAHA standards are continuously reviewed and updated to keep accredited practices on the front-line of veterinary excellence. "We are proud to be a part of the AAHA accredited hospitals," said Dr. Gary Richter, Medical director of Montclair Veterinary Hospital. "It is an honor to be recognized as one of the 15% of hospitals nationwide, who have earned this prestigious accreditation."
At AAHA-accredited practices, pet owners can expect to receive the highest quality care from well-trained, professional veterinary teams. To maintain accredited status, Montclair Veterinary Hospital must continue to be evaluated regularly by AAHA.
About Montclair Veterinary Hospital
Since 1961, the award-winning Montclair Veterinary Hospital team has shown commitment to excellence in helping animals to have a healthy life. Dr. Gary Richter, Medical Director, leads a team of professionals who practice cutting-edge and progressive medicine integrating education into the overall wellness plan. The team at MVH is dedicated to providing the best quality medical care and the highest level of customer service available. From preventative care to sick pets, holistic alternatives, and geriatric wellness, Montclair Veterinary Hospital provides everything you need to help your furry, feathered, and scaly pets live long and healthy lives.
Montclair Veterinary Hospital, located in Oakland, California, can be reached at
(510) 339-8600 or http://www.MontclairVetHospital.com and https://www.facebook.com/MontclairVet