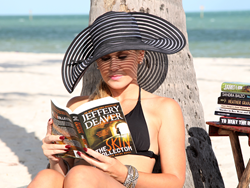 There's no other conference like the Mystery Writers Key West Fest because there is no other place like Key West.
Key West, Florida (PRWEB) June 04, 2015
International bestselling and global multi-award winning suspense-thriller writer Jeffery Deaver, author of the renowned "Lincoln Rhyme" book series, is set to headline a Who's Who of mystery writers and true-crime experts who will reveal their sleuthing savvy and who-dunnit know-how at the 2015 Mystery Writers Key West Fest, set for August 14-16 in Key West, Florida.
Through a series of panels, presentations and social events, Fest guests can learn first-hand how to craft their own tales of crime, murder and mystery from Deaver and other high-profile mystery genre luminaries – including award-winning Florida author James O. Born, New York Times and USA Today best-selling author Heather Graham, international best-selling author Chris Kuzneski, best-selling Chicago crime writer Libby Fischer Hellman, Irish thriller writer Laurence O'Bryan, award-winning crime fiction authors Sandra Balzo, Carolina Garcia-Aguilera and many others.
Produced by Key West Writers Block, the "Murder & Mayhem in Paradise" themed Fest is brainchild of Writers Block co-founders Shirrel Rhoades, a publisher who has held executive positions with Reader's Digest, Scholastic, Harper's, Marvel Entertainment and other well-known publishing companies, and author Michael Haskins, creator of the popular Mad Mick Murphy mystery series.
Kicking off on Friday afternoon, two back-to-back true-crime workshops led by Florida Keys Law Enforcement Officers will present a bird's eye view of how detectives and CSI investigators collect and work with evidence in real life – vs. popular television and film depictions.
Fest highlights are to include opening ceremonies conducted by Heather Graham and leading Key West City officials, a luncheon with Jeffery Deaver - whose first Lincoln Rhyme mystery inspired the film "The Bone Collector" starring Denzel Washington; a dinner event with James O. Born at the Backspace Bar & Kitchen, a Bloody Mary Morning breakfast at Key West's historic Schooner Wharf Bar, a bar stroll, a chance to win a cameo "character placement" role in Heather Graham's next mystery tale, and presentation of the first Jeremiah Healy Mystery Writing Award.
"The Jerry" Award, sponsored by Absolutely Amazing eBooks, salutes the late author's legacy as an influential mentor credited with helping and advising many aspiring writers. "Healy was a terrific mystery writer and a good judge of mysteries," notes Rhoades. "He helped us get the first Fest off the ground, and this way we will keep him as a part of it in future years."
"There's no other conference like the Mystery Writers Key West Fest because there is no other place like Key West," commented Haskins of the island that has long been renowned as a writers haven and locale of suspense and intrigue.
Featuring a criminally stellar line-up of award-winning and bestselling crime fiction authors and true-crime experts, Mystery Writers Key West Fest 2015 is sponsored by the Mystery Writers of America – Florida Chapter, The Florida Keys Council of the Arts and the Key West Citizen daily newspaper.
Event registration is $125 and includes all panels, presentations and three meals; "killer" early bird discounts for rooms end July 10; those who register by June 30 are automatically entered in the Heather Graham "character placement" contest.
For a full Fest schedule, online registration, links to accommodations and complete details on the Jeremiah Healy Award visit http://www.mysterywriterskeywestfest.com.