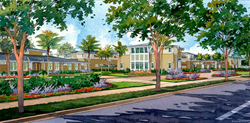 "We are pleased that Kingston Bay has broken ground and construction is underway," said Collette Valentine, CEO/COO of ISL
FRESNO, CA (PRWEB) June 03, 2015
Integral Senior Living (ISL), a leader in managing senior living communities, is pleased to announce a new property it is managing has recently started construction. Kingston Bay Senior Living, an assisted living and memory care community in Fresno, California, is redefining retirement living. Located in Northwest Fresno, the community anticipates opening in spring 2016.
Kingston Bay represents a commitment to provide a warm and nurturing environment combined with the next generation of senior care technology for its residents. This project is being built by Quiring General, an experienced senior care construction company headquartered in Fresno.
Sitting on four acres, the 86,467-square-foot community will have 107 state-of-the-art residences, which will consist of 61 one bedroom and 22 studio bedroom assisted living apartment homes and 24 memory care residences. This senior living community will provide an active and healthy lifestyle while promoting independence and upholding the dignity of the residents.
"We are pleased that Kingston Bay has broken ground and construction is underway," said Collette Valentine, CEO/COO of ISL. "There is a great need in the area for a community such as this, which will offer the best amenities, services and care for assisted living and memory care residents."
For more information visit http://www.KingstonBayFresno.com.
About ISL
Integral Senior Living headquartered in Carlsbad, CA., manages a progressive selection of senior residences to meet the growing needs of today's aging population. It currently manages 55 independent, assisted living and memory care properties throughout California, Arizona, Utah, Idaho, Texas, Colorado, Oregon, Washington, Illinois, Michigan, Alabama, Oklahoma, Tennessee and Florida. It is ranked the 17th largest senior living provider in the U.S. according to Senior Housing News. ISL is founded on a care philosophy that fosters dignity and respect for residents and promotes their independence and individuality. The dedicated staff at each community is trained to maintain the highest standards of senior care services. For more information about ISL, go to http://www.islllc.com or call (760) 547-2863.