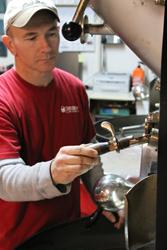 We're extremely proud of Dave! His cupping and roasting skills are a big part of our company's growth. - Greg Ubert, Crimson Cup Coffee & Tea
Columbus, Ohio (PRWEB) June 03, 2015
Dave Rochus, roast master for Ohio coffee roaster Crimson Cup Coffee & Tea, has earned a Level 1 Certificate from the Specialty Coffee Association of America Roaster's Guild.
"We're extremely proud of Dave!" said Greg Ubert, founder and president. "His cupping and roasting skills are a big part of our company's growth."
The Roaster Level 1 Certificate program develops knowledge and skills required in professional coffee roasting facilities. In addition to taking courses in roasting, green coffee grading, brewing and other coffee essentials, candidates must complete a 100-hour roast log. Rochus earned his certificate after completing training and passing an exam at an SCAA event in California.
He has served as Crimson Cup's Roast Master since 2008. In this role, he is responsible for hand-roasting coffee in small batches at the company's new 20,000-square-foot roasting facility in Columbus, Ohio, which opened January 2015.
Rochus is responsible for hand-roasting more than 500,000 pounds of coffee annually, which Crimson Cup distributes to more than 350 independent coffee houses, specialty grocers, restaurants, and colleges and universities across 29 states.
He and his team roast coffee beans in small batches using one of three gas-fired drum roasters. "Godzilla," a Roure roaster that can process up to 325 pounds in each batch, handles the company's signature "Armando's Blend" espresso beans, a 2013 finalist for the title of America's Best Espresso. Rochus uses two smaller roasters – a 66-pound Roure model nicknamed "Little Red" and a 25-pound Probat machine, "Gretel," to roast to order, allowing Crimson Cup to offer fresh-roasted coffee based on any size order.
About Crimson Cup Coffee & Tea
Since 1991, Crimson Cup Coffee & Tea has hand-roasted specialty coffee in Columbus, Ohio and taught independent business owners how to be successful through its coffee shop franchise alternative program, which includes a coffee shop business plan template. Sustainably sourced Crimson Cup coffee is available through a network of more than 350 independent coffee houses, grocers, college and universities, restaurants and food service operations across 29 states, as well as the company's own Crimson Cup Coffee House in the Columbus suburb of Clintonville. For more information, visit crimsoncup.com.