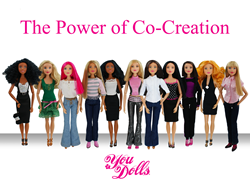 "YouDolls virtually gives girls the key to the toy factory to create their own doll and packaging," Pietri says.
Los Angeles, CA (PRWEB) June 03, 2015
Macmillan Toys announces the launch of its Kickstarter campaign for YouDolls, a new line of 12" fashion dolls that empowers girls to co-create a fashion doll that truly reflects their unique look, style and interests.
Youdolls is available first and exclusively through Kickstarter at https://www.kickstarter.com/projects/514841548/youdolls-giving-girls-the-key-to-the-toy-factory and in August 2015 online at http://www.youdolls.com. YouDolls is the brainchild of Macmillan Toys CEO Didier Pietri, a seasoned digital and entertainment entrepreneur. Pietri saw a need for a fresh approach in toy design, and developed a technology and a doll brand to give girls the freedom and power of co-creation.
"Today's kids and their parents are more diverse and unique in their look, clothing style and hobbies than ever before. The same can't be said for their toys. We created a brand that helps girls challenge their creative instincts, raise their self-esteem and celebrate their uniqueness," says Pietri.
YouDolls is truly a celebration of creativity and diversity. Whether a girl has a fair skin tone or a dark one, curly dark hair or wavy red hair, likes dresses or jeans, sports or music, she can create a doll unique to her.
YouDolls stands out from its competitors with its wide selection of co-creation options. "Co-creating a doll on youdolls.com is more fun, more social and more creative than just buying a standardized product at retail. YouDolls virtually gives girls the key to the toy factory to create their own doll and packaging," Pietri says.
The co-creation magic happens via the YouDolls website's "Creation Station" – an intuitively designed online experience. Guests can select their doll's skin tone, eye color, hair color, hair style, outfit, accessories, display packaging and as a final touch name their doll with a custom label. With dozens of clothing choices and over a hundred accessories, there are more than a million possible combinations.
The custom doll will be assembled in California and sent out directly in its luxury, reusable package ready to be gifted. Starting today, YouDolls is ready to pre-order on Kickstarter for a first delivery in August 2015. After that, the dolls will be shipped within four days of their order.
About Macmillan Toys:
Macmillan Toys (http://www.macmillantoys.com) is based in Los Angeles, CA. Its mission is to empower kids and challenge their creativity by allowing them to contribute to the creation of all their toys.
Media Contact: Macmillan Toys – Didier Pietri (310) 968-1510 - Kristynn Cloonan (661) 733 - 0420 didier@macmillantoys.com, kristynn@macmillantoys.com