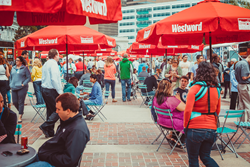 To assist in growing public awareness and engagement The Conservancy has partnered with Think Darryl Photography
Denver, Colorado (PRWEB) June 04, 2015
Denver's Civic Center Conservancy was formed in 2004 by a small group of courageous private citizens with a common goal to restore, enhance, and re-energize Denver's historic Civic Center Park. A decade later, this iconic park is thriving now more than ever; this historic urban oasis is now a virbriant cultural community hub.
The Conservancy's efforts focus around the following four areas: advocacy for park needs and infrastructure improvements; events and programming to activate Civic Center; public awareness and engagement; and fundraising for capital improvements, activities and initiatives to support and revitalize the park. The Conservancy has a formal cooperative agreement with the City and County of Denver designating it as the official fundraising vehicle for Civic Center Park.
To assist in growing public awareness and engagement The Conservancy has partnered with Think Darryl Photography — one of Denver's fastest growing and award winning photography companies to provide photographic coverage for the following events:
Civic Center EATS: (Tuesdays & Thursdays)
An incredible venue in which to experience Denver's robust gourmet food truck scene, a portion of the proceeds benefit the Civic Center Conservancy, the nonprofit dedicated to restoring, enhancing and activating downtown Denver's historic Civic Center Park.
More Info Here: http://www.civiccenterconservancy.org/event-civic-center-eats-2015_88.html
Civic Center MOVES: (Monday Through Thursday)
Is a free fitness series for all fitness levels produced and sponsored by the nonprofit Civic Center Conservancy.
More Info Here: http://www.civiccenterconservancy.org/event-civic-center-moves_78.html
Independence Eve 2015: July 3rd 2015
The sixth-annual free community celebration featuring a concert, light show and fireworks display on Friday, July 3, 2015, in Denver's Civic Center Park (Colfax & Broadway) beginning at 8:00 p.m. The concert will feature patriotic and contemporary favorites from local funk sensation Funkiphino and the 101st Army Concert Band from Buckley Air Force Base.
More Info Here: http://www.civiccenterconservancy.org/event-independence-eve-2015_75.html
Civic Center Bike-In Movies: (July through August)
The Civic Center Bike-In Movies Series will return for a fifth season in summer 2015, with free outdoor movies in Civic Center Park. Attendees can bring picnics or purchase from on-site gourmet food trucks beginning at 6 PM, with the shows beginning at dusk (approximately 8 PM - 8:30 PM).
More Info Here: http://www.civiccenterconservancy.org/event-civic-center-bike-in-movies_79.html
This summer is going to be the best one yet; be a part of Denver's thriving Civic Center Park by exploring any events this summer.
"Think Darryl Photography provides a wide range of photography services to the Greater Denver Area. Specialities include family, maternity, newborn, children, engagement, senior photos, event, corporate/professional headshots, and real estate photography. Known since as one of the most sought after and creative photography companies in Denver; our clients love our thoughtful approach, and creative perspective that we bring to every session."
Learn More: http://www.thinkdarrylphotography.com