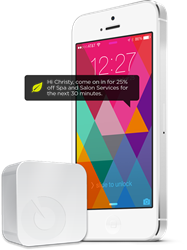 We couldn't be more excited about the release of our newest beacon. We know brands, retailers, and developers alike will love the reliability and power of the Model X.
DENVER, CO & NEW YORK CITY, NY (PRWEB) June 03, 2015
The latest Model X beacons boasts the longest lasting battery of any Bluetooth® Low Energy (BLE) beacon available on the market today. ROXIMITY's Model X is powered by a battery capable of lasting up to 5 years. In addition to its best-in-class battery life, the Model X can be purchased Secure or Open.
The Secure Model X beacon is perfect for large brands and retailers that want to protect their infrastructure, while leveraging ROXIMITY's powerful and robust dashboard tools. The ROXIMITY Platform makes beacon and campaign management simple across one or thousands of physical locations. With the Secure Model X, a level of deep in-store analytics is enabled that ecommerce sites have enjoyed for years.
ROXIMITY's Open Model X is a beacon that boasts identical hardware to the Secure Model X, but the Open Model X is configurable and tunable. Customers can set their own UUID, Major, Minor, Ad Rate, Power, and Performance variables as well as other addressable characteristics through a simple iOS application.
ROXIMITY's Model X beacons are in use today by leading Fortune 100 brands and retailers. To purchase Model X beacons, please visit https://roximity.com/model-x.
About ROXIMITY:
ROXIMITY is the most comprehensive, full-featured location-based analytics and advertising platform in the world, offering technology that enables retailers, brands, and venues to interact with nearby consumers. ROXIMITY offers innovative beacon hardware, a robust SDK, and a full suite of targeted mobile messaging and analytics tools.