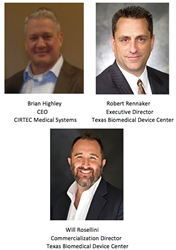 East Longmeadow, Mass. (PRWEB) June 03, 2015
CIRTEC Medical Systems, a leading provider of outsourced medical device manufacturing services for complex Class III implantable devices and minimally invasive devices, today announced plans to support a new UT Dallas-led initiative aimed at identifying potentially marketable biomedical technologies developed at University of Texas System institutions and moving them more efficiently from the laboratory bench to the bedside.
CIRTEC has a long history of working with the world's largest OEMs and most innovative startups to usher breakthrough neurostimulation, heart assistance, drug delivery and smart orthopedic devices through the entire device development cycle. These devices are delivering exciting new therapies including stroke recovery, minimally invasive heart disease treatment, and vision and hearing restoration, to name a few. "CIRTEC is pleased to support UT Dallas and the efforts of all the innovators and entrepreneurs in this unique program," said Brian Highley, CEO of CIRTEC Medical Systems.
The University of Texas System's Office of Technology Commercialization recently launched the Entrepreneurship Network, which has entered into an agreement with UT Dallas to establish a Medical Technology Lean Startup Course and to implement it at UT MD Anderson Cancer Center. The project is designed to teach biomedical researchers at UT System institutions how to start new companies and transfer their life-science discoveries more quickly into the clinic. "Bringing critical medical technologies from concept through commercialization can be a long and often expensive process. We believe that by engaging these early innovation teams we can provide critical feedback that will help reduce these barriers to entry and contribute to the long-term success of the medical technology industry," said Highley. CIRTEC will provide funding to enable teams to travel to CIRTEC to develop minimum viable prototypes in order to more effectively garner inputs to their business plans.
About CIRTEC Medical Systems, LLC
For more than 25 years, CIRTEC has been a leader in providing outsourced design, development and manufacturing services for the medical device industry. The company specializes in providing first-class solutions for active and passive implantable devices as well as minimally invasive surgical, diagnostic and delivery systems and their peripherals. For more information visit http://www.cirtecmed.com.