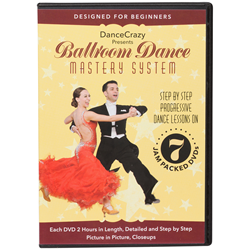 Consisting of seven jam packed, progressive DVDs, the Ballroom Dancing Mastery System is an all inclusive dance lessons system for beginners.
San Francisco, CA (PRWEB) June 04, 2015
In a nation that's gone crazy for dancing, and partner dancing in particular, learning to dance remains a daunting and scary experience for most people, especially beginners. Learning to dance and attending dance classes takes courage and humility, not to mention a strong teacher, and endless patience.
Announcing DanceCrazy's Ballroom Dance Mastery System, a 7-DVD set that takes beginners through 4 of the main ballroom dance-partner dances. Like private dance lessons, the Ballroom Dancing Mastery System takes students through their very first steps, and progressively teaches them all the steps and moves they need to become comfortable as beginners in these main partner dances, in the privacy and comfort of their own homes.
"It's not easy, taking that first step in dance classes" says Evan Margolin, president of DanceCrazy.com. "It's the most courageous and the most difficult of all the dance steps a student will ever take. We try to make it easy, yet structured, allowing students to learn progressively, slowly, and with the security of being in their own homes."
Consisting of seven jam-packed progressive DVDs, the Ballroom Dancing Mastery System is an all-inclusive system that covers each of the four dance styles in depth. The DVDs have picture-in-picture, and plenty of real music in each dance style to practice to. It is an integral and valuable tool for beginner dance students.
In a world where everyone has seen television shows such as, "So You Think You Can Dance (TM)", or "Dancing With The Stars (TM)", there are still many people who don't yet know the basic ballroom partner dances: swing, foxtrot, waltz and rumba. DanceCrazy has set its sights on the masses who want to dance but don't know where or how to start. Perhaps they tried dance lessons or a dance class, yet nothing seemed to resonate for them.
Amazon shoppers looking for DanceCrazy's Ballroom Dance Mastery System can purchase it through Amazon, http://www.amazon.com/Ballroom-Dancing-Mastery-System-Beginners/dp/B00OU27QSS/.
.
Dance video trailers exist for each style of dance with some examples below,
Waltz Dance, https://www.youtube.com/watch?v=oN6PdHoqzbI
Foxtrot Dance, https://www.youtube.com/watch?v=VVtQ0KLGyig
Swing Dance, https://www.youtube.com/watch?v=4Z4H4vbCOlI
"DanceCrazy.com, the world's online dance videos store, is a natural evolution of our love and dedication to dance instruction and dancing in all its forms," explains Evan Margolin, CEO of DanceCrazy, Inc. "We wanted to create a place where everyone could rest assured they'd be getting the best instruction available, regardless of
the dance they wanted to learn. We follow the same step-by-step, simple and clear teaching approach regardless of the dance we're teaching, and that has kept our bestselling videos achieving five-star rankings from countless reviews and consumers."
"We're filling a need for quality dance instruction, so that everyone, and I do mean everyone, can learn to dance and dance well," Margolin says. "Our goal is to teach the world how to dance, regardless of feelings of a lack of rhythm or two left feet."
For an extensive range of instructional dance videos designed to show anyone how to salsa, swing dance, waltz or perform other popular dancing styles, please visit DanceCrazy.com.
About DanceCrazy.com:
Founded in 1996 as SalsaCrazy.com, DanceCrazy.com is dedicated to offering the finest instructional dance videos on the market. By using a tested and proven method of fun, step-by-step instruction techniques, the videos available on DanceCrazy.com lead students through a carefully planned series of exercises on their path to becoming accomplished dancers. The library of videos covers an extensive range of dancing styles that allow students to comfortably enjoy a new world of exciting people, vibrant nightlife and incredible music.