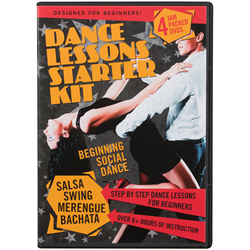 It's an amazing experience to travel the world and be able to connect with people through dance.
San Francisco, California (PRWEB) June 15, 2015
Dance clubs, ballrooms and live music events are well attended and vibrant all over the world, specifically in relation to the most popular partner dance styles - swing, salsa, bachata, and merengue.
"Most of our DVDs at DanceCrazy are social and club-style versions, rather than the performance or ballroom competition elements; we always veer to the more social aspects of the dance versus the competitive" says Evan Margolin, President and CEO of DanceCrazy, Inc. "Learning to dance takes courage, and partner dancing is no easy task for many. Our DVDs are always crafted in a way to appeal to the beginner, and yet give such depth and complete instruction, that more experienced dancers will love them as well."
The Dance Lessons Starter Kit consists of four DVDs, each a complete beginners dance class in the four social dance styles of salsa, swing, bachata, and merengue. Each DVD consists of nearly two hours of dance instruction that is step-by-step, designed for the beginning dancer and progressive in nature. Each DVD has picture-in-picture that illustrates difficult concepts or patterns similar to private dance lessons. An important feature is that the DVDs provide much music to practice to, and each move is practiced to genuine music of the specific dance style.
"It's an amazing experience to travel the world and be able to connect with people through dance; to be able to walk into dance clubs or ballrooms, or simply see live music, and be able to speak the same dance language as countless others even if one cannot speak the same spoken language" says Margolin. "It's great that we have a large enough dance classes catalog that we can put together all the key social dances actually danced around the world, and expose them together to a large audience, since they do build on one another and each progressive dance always gets just a bit easier."
The dance kit consists of classes in four essential styles of dance:
Salsa. This step-by-step guide to learn to dance salsa starts from the very beginning and lays the foundation simply and easily. Salsa dancing is fun, social, and a passion that can last a lifetime. It also provides benefits to health, fitness, coordination and lifestyle that go far beyond what is imagined.
Swing. Swing is one of the single most prolific styles of dance, and can be found everywhere. DanceCrazy's introduction to Swing Dancing Beginner's Volume is extensive and includes the first of two swing dancing DVDs. While the 2nd DVD is not included in this set, the DVD covers the fundamentals of the dance as well as beginner patterns.
Bachata. This dance is becoming increasingly popular. The included Volume 1 for Beginners guides the student through the basic bachata steps, and provides a sturdy and comprehensive foundation from which to build a repertoire. The step-by-step instruction DVD for Beginners covers all the basic patterns and techniques.
Merengue. The kit contains one DVD that includes Beginning, Intermediate, and Advanced merengue dance instruction. The DVD provides everything a student will need to learn all the merengue dance patterns for enjoyable social dancing.
Amazon shoppers looking for the DanceCrazy Dance Lessons Starter Kit can purchase it at http://www.amazon.com/Dance-Lessons-Starter-Kit-Merengue/dp/B00S7155KY/, or directly from DanceCrazy at http://www.DanceCrazy.com.
Trailers for all DanceCrazy Dance Lessons Starter Kit DVDs are on youtube:
Bachata Dancing, https://www.youtube.com/watch?v=16OmLDARZXo
Swing Dancing, https://www.youtube.com/watch?v=4Z4H4vbCOlI
Salsa Dancing, https://www.youtube.com/watch?v=xxPChZTBtE0
For an extensive range of instructional dance videos designed to show anyone how to salsa, swing dance, waltz, or other popular dancing styles, please visit DanceCrazy.com.
About DanceCrazy.com:
Founded in 1996 as SalsaCrazy.com, DanceCrazy.com is dedicated to offering the finest instructional dance videos on the market. By using a tested and proven method of fun step-by-step instruction techniques, the videos available on DanceCrazy.com lead students through a carefully planned series of exercises on their path to becoming accomplished dancers. Its library of videos covers an extensive range of dancing styles that allow students to comfortably enjoy a new world of exciting people, vibrant nightlife and incredible music.
Contact Information
David Salazar
DanceCrazy.com
http://www.DanceCrazy.com
877-507-3403