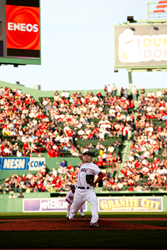 "...like Tazawa with baseball, we strive to win over the...audience through our dedication to our craft."
Boston, MA (PRWEB) June 03, 2015
Today, JX Nippon Oil & Energy (JX), parent company of ENEOS, announces its partnership with Junichi Tazawa, pitcher for the Boston Red Sox. As part of this partnership, the ENEOS brand will participate in engagement opportunities with Tazawa, such as the upcoming Tazawa Holds Giveaway, recognizing Tazawa's ongoing holds status with a weekly progressive prize giveaway, as well as a charitable donation tied to Tazawa's number of appearances made to the Red Sox Foundation, both of which will take place on ENEOS social media channels.
Tazawa and ENEOS have a history prior to this partnership. Before joining the Red Sox team, Tazawa played for the JX-ENEOS corporate team in Japan's amateur leagues, where he was known as one of the best amateur pitchers in Japan. He was recruited by the Red Sox in 2008, making his first appearance in Major League Baseball in 2009.
Since then, Tazawa has been one of the most successful relief pitchers in baseball. Now, Tazawa and ENEOS come full circle to once again regain their partnership.
"I am glad we are able to partner with pitcher Junichi Tazawa, who now plays for the legendary Boston Red Sox. Taking on the challenge of the Major Leagues via one of its most elevated peaks and earning his current position while overcoming a serious injury, I have admired Tazawa for his ability to keep focus on future goals," said ENEOS CEO Motoshi Sunami. "While the name 'ENEOS' is familiar in Japan, it is still less known in the US. But, like Tazawa with baseball, we strive to win over the American audience through our dedication to our craft and by improving lives in a meaningful way. ENEOS is once again supporting Tazawa in the hopes that he can reach his lofty goals, including doubling the number of games he pitches this year."
"I am very happy and honored to be a part of this partnership with ENEOS," said Tazawa. "As some may know, I played for ENEOS before I turned pro. ENEOS played a very important part in supporting my career as a baseball player. Now that I have achieved part of my goal in becoming a professional baseball player in the Major Leagues, I am thrilled to be able to give back and help support ENEOS in their new endeavors."
ENEOS is currently the Official Motor Oil of the Boston Red Sox.
The Brand: ENEOS
ENEOS is the brand name for premium synthetic oil products manufactured and sold by JX Nippon Oil & Energy Corp., the largest oil company in Japan. ENEOS products are the highest quality automotive lubricants available in the marketplace today. These products are on the cutting edge of base oil and additive technologies, the result of joint engineering and research with all of the Japanese automotive manufacturers. ENEOS lubricants provide exceptional performance, power and protection for a wide variety of applications including race cars, motorcycles and street automobiles. View more about ENEOS and JX Nippon Oil & Energy.
About ENEOS Products
Products made by ENEOS include premium synthetic motor oils, transmission fluids, and gear oil. View more about ENEOS Products.
Our products are carried throughout North America. View Where to Buy our products to find a retail location near you.
About ENEOS and Baseball
ENEOS Motor Oil is the proud partner of the Boston Red Sox. The sponsorship began with 2015 season spring training, and will include the classic orange swirls of the ENEOS logo on the video boards of historic Fenway Park. JX Nippon Oil & Energy, parent company to ENEOS, has a long tradition of supporting baseball in Japan, including their team JX-ENEOS, which recently achieved its 11th winning season. Red Sox pitcher Junichi Tazawa previously played on the JX-ENEOS team. JX Nippon Oil & Energy also sponsored the Women's Baseball World Cup as the title sponsor, and consistently support Japanese women's and disabled players' baseball leagues. View more information about ENEOS Red Sox Partnership.
About ENEOS Racing
Beginning in 2000, ENEOS began formulating, supplying and sponsoring Honda's Formula 1 racing team. In addition to its products being used in numerous racing series, ENEOS currently sponsors racing teams in series across the globe. Sponsored teams include: Rookie of the Year (2012, 2013, 2014) Kyle Larson (with Chip Ganassi Racing) for NASCAR's Xfinity Series; lifelong award-winning racer Steve Arpin (with Chip Ganassi Racing) in Global Rallycross; Shane Stewart of Larson Marks Racing in the World of Outlaws Sprint Car Series; Lexus Team LeMans ENEOS in Super GT; the Yamaha Factory Racing team in Moto GP; and Akinori Ogata in NASCAR's K&N Pro Series East & NASCAR Camping World Track Series. View more information about ENEOS Racing.
About JX Nippon Oil & Energy Corporation
JX Nippon Oil & Energy Corporation is a fully integrated petroleum products company headquartered in Tokyo, Japan. JX offers petroleum products and services throughout the world. Through partnerships with world class customers, JX produces technologically advanced motor oils and transmission fluids that reduce carbon emissions, improve fuel economy and reduce wear on critical components. For more information please visit http://www.noe.jx-group.co.jp/english/.
Follow ENEOS USA:
Twitter: @ENEOSUSA
Facebook: /ENEOSUSA
Instagram: /ENEOSUSA