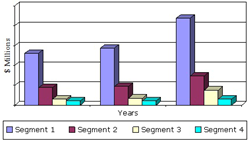 The U.S. market for green building materials is expected to reach $69.0 billion by 2019
Wellesley, Mass. (PRWEB) June 03, 2015
More than 500 U.S. companies are involved in the production of green building materials and the design and construction of green buildings. This number is likely to grow rapidly as more building owners and investors become aware of the potential of green building. BCC Research estimates the value of the U.S. green building materials market at nearly $43.8 billion in 2014 amid further growth in the U.S. construction market as the housing market continues its recovery. By 2019, BCC Research expects that the market for green building materials will have grown to nearly $69 billion, a compound annual growth rate (CAGR) of 9.5%.
The market for green building materials has seen rapid growth in recent years. As of Oct. 17, 2014, more than 3.3 billion sq. ft. of building space had been certified by the U.S. Green Building Council's (USGBC) Leadership in Energy and Environmental Design (LEED) Program. An article in the June 2006 issue of the Harvard Business Review accurately predicted that green construction would become a mainstream technology in the next five to 10 years following its publication. The article's author, Charles Lockwood, went so far as to note that the ultimate impact of green building becoming mainstream will have as profound of an effect on commercial real estate as the invention of central air conditioning in the 1950s and 1960s or elevators in the 19th century.
"These trends provide an opportunity for both existing players and new entrants into the green building materials market," says BCC Research analyst Erik Vickstrom. "Softwood framing lumber had by far the largest sales of any green building product in 2013, and is expected to remain the leading seller through 2019. Oriented strand board structural sheathing made up the second-largest selling product category in 2013, and it is expected to remain in this position through 2019."
The U.S. Market for Green Building Materials (ENV007C) provides detailed analysis of green building technologies with the greatest commercial potential over the next 5 year period. The report estimates the potential U.S. markets for green building technologies and analyzes the technical, commercial, and other prerequisites of success in these markets. Manufacturers and distributors of green building materials and other technologies will gain understanding of technical, economic, and other factors that will influence the ability of different green building technologies to compete for a share of their respective market(s).
Editors and reporters who wish to speak with the analyst should contact Steven Cumming at steven.cumming@bccresearch.com.
About BCC Research
BCC Research publishes market research reports that make organizations worldwide more profitable with intelligence that drives smart business decisions. These reports cover today's major industrial and technology sectors, including emerging markets. For more than 40 years we've helped customers identify new market opportunities with accurate and reliable data and insight, including market sizing, forecasting, industry overviews, and identification of significant trends and key market participants. We partner with analysts who are experts in specific areas of industry and technology, providing unbiased measurements and assessments of global markets. Recently selected as the world's greatest market research company, BCC Research is a unit of Eli Global, LLC. Visit our website at http://www.bccresearch.com. Contact us: (+1) 781-489-7301 (U.S. Eastern Time), or email information@bccresearch.com.