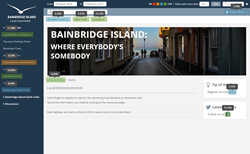 NO MORE GUESSING. NO MORE INFERRING. JUST FACTS.
Boston, MA (PRWEB) June 03, 2015
No more guessing. No more inferring. Just Facts.
The Intlock team announced today the release of their new Click Map Feature for CardioLog Analytics. The Click Map allows end users the ability to visually measure traffic, conversion, and success metrics within the individual pages of their SharePoint Portal. Users can easily understand these metrics as they're overlaid on the top of the page's individual links. They answer critical questions about which links are most relevant to users, which links are not valuable, and which locations on the page are bringing the most traffic.
The Click Map is a brilliant offering that tracks user activity to assist administrators and end-users in improving portal and page design. By gaining insights on which elements of the page are performing well, they can then optimize individual pages to further capture portal users' attention.
Finally, A/B testing can be implemented quickly and easily to test what's working on the pages, and what's not. With each individual tweak, the organizations can perfect their portals for ease of access and overall portal enhancement.
To find out more about the Click Map offering, click here.
About Intlock
Intlock was founded in 2005. Ever since, it has been a leader in analytical solutions for SharePoint Intranets and Internet websites. As the company's flagship product, CardioLog Analytics set Intlock apart and put it ahead of the competition. CardioLog provides organizations with insights on how their SharePoint portal is being used, and helps optimize the portal. As organizations started to expand, so did the use of SharePoint to public facing websites. A demand grew for marketing tools designed for SharePoint, which lead to the release of the SharePoint Marketing Suite, which includes a wide range of marketing solutions for enterprise-level websites.
Today, Intlock products support all of the SharePoint versions, including the new 2013 edition. They offer a variety of insightful features and tools to help optimize portal and site productivity, as well as maximize the ROI.
Intlock, based in Boston, Massachusetts, has offices and partners throughout the world. Some of the customers utilizing these products are large worldwide enterprises such as Applied Materials, Fidelity Investments, and US Department of State. Intlock also offers a variety of packages for small business and NGO's.