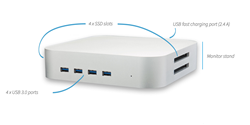 Utilize SSDs in the most efficient and stylish way
Potsdam, Germany (PRWEB) June 05, 2015
The unique features of this external storage device are the SSD slots. When plopped in, the drives stick out a bit like short wings. Maybe the "double decker" or "red baron" would also be a fitting name. However, this slot design is a great idea for users that need a lot of fast and flexible storage. With the UASP support the electronics are optimized for SSDs and achieve transfer rates beyond 400MB/s. The flexibility comes with the "plop in" design. Up to four drives can be pushed in the open slots on both sides. This plop in design is also implemented in their portable devices, which is a handy feature for traveling or working at different locations.  
The name "base" was given on purpose. With the anodized aluminum and similar dimensions, the plop can be used as a stand for the mini. Also the iMac can be placed on top, which gives a comfortable elevation of 4.8cm. Another convenient feature is the easy accessibility of four USB 3.0 ports. On the backside a fast charging port for smartphones and tablets is implemented. With this design and feature set, the base plop is a great match for Apple users and others.
For consumers which have a lot of SSDs, color coded labels and a holder for five drives is offered. The approach of the company is a bit different from others. Instead of their products being the focal point, they see the SSD as the core element and arrange their products around it.  "To utilize SSDs in the most efficient and stylish way" is the goal of Andre Werner, founder of stockplop. To give consumers a broader choice the products will be offered in different editions - pure, black and wood.
The modules from stockplop are a tempting alternative for anybody in need of external, flexible, fast and stylish storage. Ordering the plops and backing the project can be done at indiegogo. Once the funding goal is reached, backers will get a their editions by September 2015.
Located in Potsdam (Germany), the company is focusing on offering stylish products to utilize SSDs in the best manner. Their first products, the pure and wood plop, proved that SSDs can be used in a much better way. The customer feedback was very positive and the design and flexibility highly appreciated. stockplop's mott, "simple.different." fits well with their product lines and storage concept.