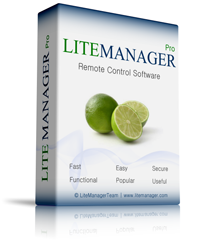 In few seconds LiteManager sets a connection with a remote computer anywhere in the world up.
(PRWEB) June 07, 2015
The new version of the LiteManager 4.6.2 with Linux and Mac OS support and the screen sharing mode is a one-stop solution for providing remote support to users, administrating computers and organizing the learning process in computer classes.
With the help of Wine, LiteManager can be run on other operating systems to be used on different Linux and Mac OS platforms.
The new screen sharing mode allows conducting presentations, organizing simultaneous work on a mutual project of a group of employees, or providing real time training in a computer class. The program enables users to create training lessons with the functions of drawing on the screen and recording the screen sharing to a file for later playback of the lesson.
In the QuickSupport mode we added the possibility to use corporate logos for program branding. Remote support services now have their private free ID server, allowing to configure a fully independent corporate remote support service.
The free version of the program, LiteManager Free is also available for up to 30 computers for both personal and commercial use.
http://www.LiteManager.com – remote support and training in computer classes.