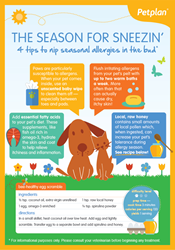 Newtown Square, PA (PRWEB) June 03, 2015
Last winter is finally a distant memory, but many are struggling to breathe a sigh of relief. That's because the 2015 spring allergy season has been among the worst on record, sending allergy sufferers to the medicine cabinet — and four-legged friends to the veterinarian's office.
Petplan reports a staggering 38% increase in the number of pets affected by allergies this May compared to May 2014. The seasonal symptoms are also costing pet parents an average of $249 – a 17% increase over last year's treatment costs.
If left unchecked, pollen and other allergens can lead to a chronic cycle of itching and scratching: think inflamed skin, ears and feet, hot spots and even infection. Over the past three years (2012-2014), 40% of pets with allergies visited the vet more than once for their symptoms in the spring season alone, according to Petplan claims data.
The so-called "pollen tsunami" began to take shape when cold, wet conditions extended into early spring and disrupted the typically staggered release of pollen. As a result, a season's worth of tree and grass pollination has been condensed into several weeks of allergen mayhem — with little rainfall to clear the air. This perfect storm of pollen is expected to last through June.
"While humans may suffer cold-like symptoms, dogs and cats with allergies are more likely to suffer skin irritation and inflammation," says Dr. Jules Benson, Petplan's Chief Veterinary Medical Officer. He advises pet parents to keep an eye out for "excessive licking and chewing of their paws or skin, increased scratching of their ears — even rubbing themselves on furniture or the carpet."
So what's a pet parent to do? "Minimizing their exposure to pollen will go a long way," Dr. Benson says. "Keep them inside with the windows closed during peak pollen times, usually between 10 a.m. and 4 p.m. Vacuuming and cleaning your pet's bedding will also help keep allergens at bay."
In addition, he offers the following tips:

Wash Worry Away: Flush irritating allergens from your pet's pelt with up to two warm baths a week, but don't overdo it: bathing too often can cause dry, itchy skin – putting your pet back at square one!
Hair of the Dog: Local, raw honey contains small amounts of local pollen which, when ingested, can increase your pet's tolerance during allergy season. Try adding one teaspoon of honey to scrambled eggs to give pets a power-packed dose of this allergy fighter.
O-Mega Relief: Consider adding essential fatty acids to your pet's diet. These supplements, like fish oil rich in omega-3, hydrate the skin and coat to help relieve itchiness and inflammation.
Shoeshine, Sir?: Paws are particularly susceptible to allergens. When your pet comes inside, use an unscented baby wipe to clean them off — especially between toes and pads.
With any luck, pollen counts will subside in July — just in time for the late summer outbreak of mold, mildew and ragweed pollen. But whatever the allergen du jour, pet parents can provide their pets with much-needed relief by making these few simple adjustments. As always, talk to your veterinarian before starting any treatment or if you have concerns about your pet's health.
For more information about keeping four-legged friends healthy through allergy season and beyond, visit http://www.GoPetplan.com.
###
About Petplan
Petplan is more than a pet insurance company. We're dedicated to providing pet parents with the support, resources and tools they need to keep their pets not just surviving—but thriving—into their old age. Simply put, we aim to be the kind of company that will make our pets proud. For the third consecutive year, Petplan was listed among Forbes' annual ranking of America's Most Promising Companies – a list of 100 privately held, high-growth companies with bright futures. Petplan is the only pet insurance company to have been included on Inc. Magazine's list of 500 fastest-growing, privately held companies in America.
Petplan's fully customizable cat and dog insurance policies provide comprehensive coverage for all hereditary and chronic conditions for the life of the pet as standard. Petplan policies are underwritten by AGCS Marine Insurance Company in the U.S. and by Allianz Global Risks US Insurance Company in Canada. The Allianz Group was rated A+ by A.M. Best in 2014. For more information about Petplan pet insurance, visit http://www.gopetplan.com or call 1-866-467-3875.