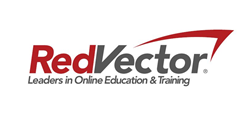 We are excited to launch a TPM training series that can help involve workers in all departments and levels, from the plant-floor to senior executives, in their mission to ensure effective equipment operation
Tampa, FL (PRWEB) June 03, 2015
RedVector, the leading provider of online training to industrial businesses, including chemical processing, power generation, oil and gas, metals and minerals, pulp and paper, food and beverage and pharmaceutical manufacturing organizations, has launched a mobile-ready Total Productive Maintenance (TPM) training series to demonstrate the goals, methods and benefits of TPM.
RedVector's TPM training seeks to engage all levels and functions in an organization to maximize the overall effectiveness of production equipment, reducing breakdowns, mistakes and accidents.
"We are excited to launch a TPM training series that can help involve workers in all departments and levels, from the plant-floor to senior executives, in their mission to ensure effective equipment operation," said Dan McGonegle, RedVector Industrial Product Director. "We have seen TPM training help companies and their employees successfully incorporate maintenance into the everyday performance of a facility, detect developing problems earlier and "mistake-proof" equipment."
The following RedVector four-course series demonstrates the goals, methods and benefits of TPM:
Total Productive Maintenance: Introduction
In this course, you will learn about the essential elements of TPM, explore the fundamental strategies that are required for a successful TPM effort, and learn how to maintain and manage equipment cooperatively to maximize equipment effectiveness.
Total Productive Maintenance: Overall Equipment Effectiveness
In this course, you will focus on calculating Overall Equipment Effectiveness (OEE), or "the amount of productive service equipment provides" in order to identify pieces of equipment that present opportunities for improvement.
Total Productive Maintenance: Preventive Maintenance, Part 1
In this course focusing on preventive maintenance, you will learn how to select the equipment to concentrate on first, determine which preventive maintenance activities should be performed on that equipment, develop clear and specific instructions for performing those activities, and develop an effective preventive maintenance schedule.
Total Productive Maintenance: Predictive Maintenance, Part 2
In this course focusing on early detection of developing problems, you will learn predictive maintenance techniques to identify deterioration not yet detectable with the five senses, and to measure the amount of deterioration accurately so that parts may be replaced at the optimum time.
About RedVector Industrial
Founded on the idea that better training leads to better performance, RedVector provides comprehensive online training to industrial and facilities professionals so that they may work safely, maintain certifications and achieve operational excellence. With an online library nearing 700 courses, RedVector serves organizations across the globe. For more information, call 800.624.2272 or visit RedVector.com.