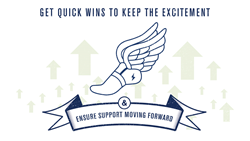 Failing to pick an analysis strategy early in the game is a recipe for failure.
Denver, CO (PRWEB) June 04, 2015
"Big data" is arguably the biggest or at least newest business buzzword of the last few years. You know you have hit buzzword status when there is even a band named "Big Data" (they had a #1 song in the U.S. alternative rock chart). Many organizations, private and public alike, are moving as fast as they can to extract value out of the enormous amount of data they hold. The first stop for many has been to build an analytics capability, both in terms of platforms and organizationally, but analytics, to put it bluntly, is hard. Many platforms and the field in general are still in the earlier stages of maturity and building organizational competence in itself is a challenge.
It takes time to find talented analysts and data scientists, who must build a working knowledge not only of the tools at hand, but the incredibly complex and often unrefined data behind them, and the people, processes, and customers that produce this data.
Despite these challenges, many senior leaders have high expectations for early returns and once the pilot or "proof of concept" phase is complete, a newly minted analytics organization will need to produce quick wins right out of the gate. While there are no one size fits all strategies, some methods can help an analytics team zero in on early winners and losers and get a program off the ground. This article will explore some of our most successful tactics for delivering quick wins in every project.
View the full article at http://www.clickfox.com/?p=2726.