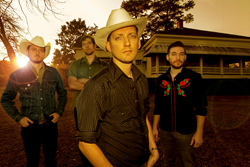 Fairfield, CT (PRWEB) June 03, 2015
Over the course of four nights at StageOne, the Fairfield Theatre Company will host several of the biggest emerging indie acts on the music scene today, starting with the Brooklyn-based band by way of New Zealand, Streets of Laredo, at 7:30 p.m. on Thursday, June 4.
Founded by three close-knit family members Daniel, Dave and Sarahjane Gibson, Streets of Laredo began when oldest sibling Dave saw the potential and the dreams that his younger brother Dan had for music.
Together, the Gibsons fashioned a sound that was equal parts folk storytelling and psychedelic madness. With the help of fellow countryman Thom Darlow and the addition of several local Brooklynites including Sean McMahon and Andrew McGovern, this new seven-piece act has crafted a dance-inducing mix of vocal hooks, beats and wildly unique sounds that the New York music scene has embraced and helped build a firm reputation in the music halls of Brooklyn and the Lower East Side.
On Sunday, June 14, FTC welcomes the sounds of the Americana-infused Goodnight Texas and Bhi Bhiman to the intimate StageOne venue.
What sets Goodnight, Texas apart from the pack is their richly-imagined, full-color story. If you measure the midway point between the hometowns of songwriters Avi Vinocur and Patrick Dyer Wolf (respectively from San Francisco and Chapel Hill, North Carolina) you'll find an unincorporated town called Goodnight, Texas with a population of less than 100 people. That's what the duo discovered when they went looking for the center of their long-distance collaboration.
After meeting in San Francisco in 2007, Vinocur and Wolf built a friendship based on trading words and tunes. Though the two singers have notably different styles — Wolf showcases a lifelong love of acoustic folk while Vinocur clearly comes from the world of garage rock and leans toward darker blues – the two have the same admiration for easy harmony, as well as a fascination with late 19th century small-town America.
Goodnight, Texas will be joined by the one-of-a-kind folksinger and songwriter Bhi Bhiman.
Bhiman spent his childhood in St. Louis, Missouri and began playing guitar when he was just nine years old. As a teen, he fell under the influence of bands like Nirvana, Soundgarden, and Alice in Chains. It wasn't until he began to write his own songs filled with joy, creative wordplay and sharp humor that Bhiman began to sound more like the folk legends Bob Dylan and Woody Guthrie.
After developing an utterly unique, Americana-fueled style, Bhiman relocated to the Bay Area and began to establish himself on the local circuit, releasing his first album "Cookbook" in 2007.
On Monday, June 18, the Fairfield Theatre Company will welcome the Nashville, Tennessee band Colony House to StageOne.
The creative force that Colony House embraces reflects the balances and the affinity of the sound of such alt-rock groups as Interpol, Arcade Fire and The Killers, all while echoing the influences of alternative icons U2, New Order and Coldplay.
As the sons of a contemporary Christian pop superstar Steven Curtis Chapman, Caleb and Will Chapman were steeped in music since an early age that eventually led them to play and tour alongside their father.
It wasn't until 2009 when the two brothers met Scott Mills that they decided to recreate themselves and their sound by adding new tight harmonies and strong instrumental elements with that of keen melodies.
Closing out this incredible four-night indie celebration of some of the best emerging artists will be Boston's own Girls Guns and Glory on Tuesday, June 19.
For the past eight years, Girls Guns and Glory have been making a name for themselves through relentless touring worldwide. With the release of four critically-acclaimed records, a slew of local and international awards, there is very little this incredible foursome has yet to accomplish.
Made up of Ward Hayden on vocals/guitar, Paul Dilley on electric and upright bass/piano, Josh Kiggans on drums/percussion, and Chris Hersch on lead guitar/banjo, these four men found inspiration by going back to the roots of early '50s rock 'n' roll icons such as Chuck Berry, Eddie Cochran, and Buddy Holly, as well as country greats like Hank Williams and Johnny Cash.
Indie music fans should clear their calendars because these four shows at Fairfield Theatre Company StageOne are ones no one should miss.
Streets of Laredo
Date: Thursday, June 4
Doors: 7 p.m.
Show: 7:30 p.m.
Venue: StageOne 70 Sanford St., Fairfield, CT 06824
Tickets: Advance $25 Member Discount N/A
Buy tickets: Box Office: 203.259.1036 or buy online: http://www.fairfieldtheatre.org
Goodnight, Texas & Bhi Bhiman
Date: Sunday, June 14
Doors: 7:00 p.m.
Show: 7:30 p.m.
Venue: StageOne 70 Sanford, Fairfield, CT 06824
Tickets: Free
Buy Tickets: Box Office 203 259 1036 or buy online: http://www.fairfieldtheatre.org
Colony House
Date: Monday, June 18
Doors: 7:00 p.m.
Show: 7:30 p.m.
Venue: StageOne 70 Sanford, Fairfield, CT 06824
Tickets: $20 Advance Members Discount: N/A
Buy Tickets: Box Office 203 259 1036 or buy online: http://www.fairfieldtheatre.org
Girls Guns and Glory
Date: Tuesday, June 19
Doors: 7:00 p.m.
Show: 7:30p.m.
Venue: StageOne 70 Sanford, Fairfield, CT 06824
Tickets: $22 Advance Members Discount: $3
Buy Tickets: Box Office 203 259 1036 or buy online: http://www.fairfieldtheatre.org
About the company:
Fairfield Theatre Company is a highly-acclaimed non-profit performing arts organization located in the heart of downtown Fairfield, Connecticut. FTC presents nearly 250 performances and concerts each year featuring outstanding national talent on FTC's StageOne in Fairfield, The Klein Auditorium in Bridgeport, and the Norwalk Concert Hall in Norwalk. FTC's intimate 200-seat StageOne concert venue is widely recognized as being one of the best places to see a live performance in the region. FTC is dedicated to providing the highest-quality arts, live entertainment and educational experiences to the communities it serves.