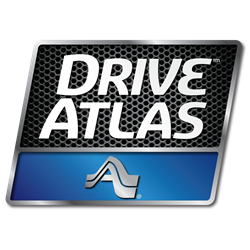 Atlas is dedicated to providing a financially strong, fiscally responsible work option for all of our drivers
Evansville, IN (PRWEB) June 03, 2015
DriveAtlas® has launched a lease-purchase truck program designed to make drivers more profitable and take the initial steps toward owning a tractor. As an official partner carrier of Quality Companies, the program will assist both drivers who have never been an owner operator and those needing to obtain their next truck. Upon leasing a truck, drivers will join the Atlas fleet during one of the busiest seasons of the year, which means they will have the miles and income they need to start off successfully.
One of the challenges that owner-operators face in today's market is not being able to purchase a truck outright due to increasing prices of new equipment. By allowing flexible, low weekly payments, no upfront cost, and 100 percent driver approval, drivers are able to grow their careers and thrive through this lease-purchase truck program. Providing such options helps reduce turnover for partner carriers and increase credit approval potential for drivers.
"Atlas is dedicated to providing a financially strong, fiscally responsible work option for all of our drivers," said Jack Griffin, president and COO of Atlas World Group. "Through this program, we can open the door for drivers to obtain a truck lease while also helping them be successful as business professionals holding a position in our direct fleet."
If an owner-operator is approved to drive for Atlas, they receive guaranteed approval to lease a truck through Quality Companies. All of the benefits are offered to the driver with no financial obligation to Atlas.
"This program not only allows Atlas and Quality Companies to develop a strong relationship, it also helps give owner-operators the opportunity to lease their own equipment, regardless of past credit history," said Dean Bowman, director of leasing for Quality Companies. "It's a great partnership for Atlas and Quality Companies, and a great benefit for all Atlas owner-operators."
Atlas continues to take measures to grow its owner operator based Direct Fleet in response to a substantial shipment volume increase in household moving contracts, freight transportation, and logistics services. Other perks of DriveAtlas include a discounted fuel program, fuel surcharge paid on all dispatched miles, free Blue Beacon® truck washes each month, free PrePass®, and weekly direct deposit settlements. Additional optional benefits are resources made available to 1099 paid contractors, such as health, dental and life insurance coverage, a maintenance program, nationwide tire discounts, and a no-cost, year-round rider program.
All DriveAtlas divisions are leased-on with and dispatched from Atlas' headquarters based out of Evansville, Ind., though these drivers can live anywhere in the lower 48 states.
For more information on the lease-purchase program, please visit http://driveatlas.com/equipment/lease-purchase
About DriveAtlas®
DriveAtlas® is an Atlas World Group brand in reference to those who drive for Atlas Van Lines. Nearly 3,000 owner operators and company drivers throughout the U.S. operate under Atlas' authority through the headquarters' Direct Fleet and the Atlas interstate agent network. Atlas World Group companies employ nearly 700 people throughout North America. Nearly 500 Atlas interstate moving agents in the United States and Canada specialize in corporate relocation, household moving services and in the transportation of high-value items such as electronics, fine art, store fixtures and furniture. For more information, please visit: http://driveatlas.com
About Quality Companies
In 2006 our company was founded and structured based on one theme: quality. We focus on a wide variety of offerings including fleet and owner operator leasing, truck and trailer sales, parts & service, and business services to help fleets become more profitable. We are customer focused and financially motivated to deliver excellent service through executive leadership, industry leading vendors, and an experienced team.
All trademarks included above remain the property of their respective owners and are used only to directly describe the services/products being provided.