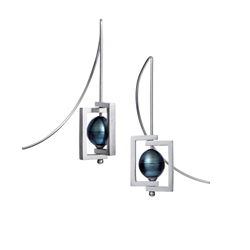 I wanted to create a brand that was new and fresh - with a good mix of collections for everyone to suit all budgets. We don't think pearls have to be expensive, says Louise Tippey - Founder & CEO Pearls By Fleur
LONDON (PRWEB UK) 4 June 2015
The Launch of Pearls By Fleurs' contemporary jewellery collection in June (known as the "month of the Pearl") is perfectly timed to celebrate the natural gem.
With a focus on modern design, their stylish twist on a classic pearl collection and focus on affordability set's Pearls By Fleur apart from the competition.
Founder and CEO, Louise Tippey shares her motivation behind the brand "I wanted to create a brand that was new and fresh - with a good mix of collections for everyone to suit all budgets. We don't think pearls have to be expensive."
Part of this modern collection includes affordable pearls supporting Fair Trade. " Our Fair Trade Unity collection is beautifully crafted and handmade in London, UK", continues Louise Tippey, " I am very proud to be supporting fair trade and home-grown talent . To us, the people are just as important as the jewellery itself."
Pearls By Fleur Founder and CEO Louise Tippey, also runs a successful personal stylist consultancy, with a little black book of high society clients.
Following a visit to the pearl farms in China, (where her father lives), Louise fell in love with the idea of creating an affordable pearl jewellery brand. This, coupled with her love of fashion, provided the inspiration behind the Pearls By Fleur brand.
Louise's design choices are influenced by her wealth of experience working with clients, where she helps them combine luxury clothing with natural gems and designer accessories. Pearls By Fleur is able to deliver this elegant, designer look to a wider audience, through affordable jewellery choices.
Louise explains, "Our team here at Pearls By Fleur adore pearls and hope that through our latest collection, you can share in our passion for the worlds oldest organic gem".
The new website features Pearls By Fleur branded jewellery showcasing classic, contemporary, designer and fair trade pieces. Signature pieces of note include the fair-trade baroque pearl collection and the designer akoya pearl collection.
"Pearls are timeless, chic - to be treasured....and perfect for the month of June" , says Louise.
FACEBOOK: https://www.facebook.com/pages/Pearls-By-Fleur/788698411173962
TWITTER: https://twitter.com/tipster77
INSTAGRAM: https://instagram.com/pearlsbyfleur/