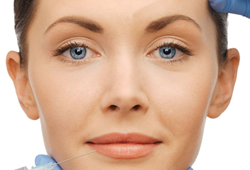 Rolling Meadows, IL (PRWEB) June 03, 2015
A recent FDA directive that soft-tissue filler manufacturers include additional precautions on product labels underscores the importance of patients seeking expert physicians for their treatments, according to the American Society for Dermatologic Surgery Association.
The FDA is asking manufacturers to include new warnings about the risks for serious injury if practitioners unintentionally inject fillers into blood vessels. While product labels already include information about risks, the FDA believes additional cautionary language will be useful for patients and providers.
According to the May 28 directive from the FDA, soft-tissue fillers "should be injected only by health care providers who have appropriate training and experience and who are knowledgeable about the anatomy at and around the injection."
ASDSA stands in agreement, with a formal Board-approved position statement asserting that "only properly trained physicians should be injecting dermal fillers and botulinum toxins. Training should include an extensive understanding of cutaneous medicine and the aging face, knowledge of the various FDA-approved injectable products and their indications, experience in injection techniques appropriate to the products, and the pre- and post-procedure care involved in treatment."
Soft-tissue filler treatments involve minimal risk when performed by appropriately trained physicians, said ASDS/ASDSA President George J. Hruza, MD, MBA. ASDS members performed more than 1 million soft-tissue filler treatments in 2014, according to the Society's Survey on Dermatologic Procedures.
"ASDS members are widely recognized as the leading experts and innovators in soft-tissue filler treatments," Hruza said. "The level of training and experience possessed by ASDS members offers our patients peace of mind that they can count on a safe, natural result."
The FDA cautioned that in rare cases, unintentional injections can block blood vessels and restrict blood supply to the tissues, which can lead to vision impairment, damage to the skin and underlying facial structures, and other significant complications.
"The FDA ruling reinforces our consistent advice that dermal fillers such as Restylane, Juvederm and others should only be administered by experienced, board-certified dermatologists who have appropriate training and who are knowledgeable about facial anatomy," said ASDS/ASDSA Immediate Past President Mitchel P. Goldman, MD. "We agree patients should be fully informed about any risks. With the proper education, patients can make good decisions about where to go for treatment."
Soft-tissue fillers minimize facial lines and wrinkles to generate a smoother, fuller and more youthful look. The procedure has ranked at the top in satisfaction ratings in each of the past three years in the ASDS Consumer Survey on Cosmetic Dermatologic Procedures, with 84 percent or more of respondents indicating they were satisfied with their results.
An early look of an upcoming scientific analysis of published peer-reviewed medical research shows that dermatologists are the leading innovators in soft-tissue fillers and have conducted "the overwhelming majority of pioneering research" about fillers and other facial injectable treatments.
"This evidenced-based study will further demonstrate that members of our specialty are impeccably qualified to provide patients the trustworthy, proficient care that the FDA endorses," Hruza said.
About ASDSA
With a membership of nearly 6,100 physicians, the American Society for Dermatologic Surgery Association, a 501(c)6 association, was created to promote the educational and professional interests of dermatologic surgeons; provide a vehicle for advocacy and public education efforts on behalf of dermatologic surgeons and their patients; and address socioeconomic issues that impact the practice of dermatologic surgery as a specialty. The American Society for Dermatologic Surgery Association advocates for patient safety and access to quality care, skin cancer prevention and education, and fair and appropriate office-based surgery regulation.
About ASDS
The American Society for Dermatologic Surgery is the largest specialty organization exclusively representing dermatologic surgeons who have unique training and experience to treat the health, function and beauty of your skin. ASDS members are pioneers in the field. Many are involved in the clinical studies that bring popular treatments to revitalize skin and fill and diminish wrinkles to the forefront. Their work has helped create and enhance many of the devices that remove blemishes, hair and fat, and tighten skin. Dermatologic surgeons also are experts in skin cancer prevention, detection and treatment. As the incidence of skin cancer rises, dermatologic surgeons are committed to taking steps to minimize the life-threatening effects of this disease. For more information, visit asds.net.
Follow us:
Website: asds.net
Follow ASDS on Twitter: twitter.com/ASDSSkinExperts
Become a fan of ASDS on Facebook: facebook.com/ASDSSkinExperts
Locate a dermatologic surgeon in your area: asds.net/findadermatologist.aspx
Contact:
Jay Schwab
Communications Manager
American Society for Dermatologic Surgery
jschwab(at)asds.net
847-956-9143