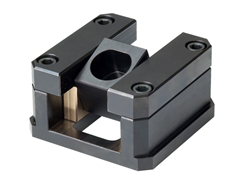 The perfect tool for mold builders because the were built with the mold builder in mind
Coopersville, MI (PRWEB) June 03, 2015
Leading U.S. manufacturer of precision mold and die components, will be displaying its line of Trunnion Lifter Slides at this year's Amerimold Expo. This is an important trade show for the mold-building industry held this year June 17-18 at the Donald E. Stevens Center in Rosemont, Illinois.
"The perfect tool for mold builders because they were built with the mold builder in mind," says CEO Phil Allor. "These components deliver a significant value to customers by reducing expensive build time and costs."
SelfLube makes six types of Lifter Slides that are available each with 100 ready-to-install configurations, which include:

Trunnion Lifter Slide (inch - TGA)
Trunnion Lifter Slide (inch, angled - TSA)
Trunnion Lifter Slide (inch, angled with adjuster - TJA)
KOCU - metric
KOCUF - metric
These are real time-savers because they automatically conform to any lifter rod angle, thereby reducing machining and build time. Models are available with angles of travel of up to 10 degrees with an optional rod length adjustment feature. "Tool builders prefer them for their rugged design and durability," adds Allor.
This will be SelfLube's 16th year exhibiting at Amerimold. Other products that will be on display at the show will include cutting tools, machine tools, CAD/CAM, 3D printers and much more. Scheduled conferences will also take place, which will deliver expert insights on the production, management and challenges within the industry.
SelfLube is the leading U.S. manufacturer of mold and die components. The company manufactures both conventional and self-lubricating components used in molds, dies and special machines. As an ISO 9001:2008 registered company with five successive audits with zero non-conformances, SelfLube is well positioned to supply the component needs of the tooling industry. Its product line can be viewed on the company's website along with CAD models of each part number. SelfLube would like to invite tool builders in the mold and plastic industries to visit them at Booth 924.