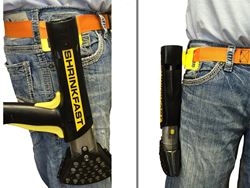 Manistee, MI (PRWEB) June 04, 2015
A shrink wrap installation can never become too streamlined. The proper equipment makes any shrink wrap project simpler. Dr. Shrink introduces a Belt Clip for the Shrinkfast 998 Heat Tool, allowing installers to keep it at their side for easy access. No belt? No problem-- the Belt Clip comes with an orange adjustable belt for the clip to easily attach to.
With this Belt Clip, the heat tool is always within reach for convenient handling, saving users time and effort. Shrink wrap installation becomes more efficient. This handy device also helps prevent damage to the heat tool from dropping or mishandling.
With 212,000 BTUs of power, the Shrinkfast 998 heat gun can help wrap almost anything. An ergonomic design and fan-shaped combustor deliver even, steady heat.
The Shrinkfast Belt Clip from Dr. Shrink retails for $19.99.
Based in Manistee, Michigan, Dr. Shrink produces a complete shrink wrapping system for covering almost anything. It also offers installation accessories, recycling programs and training sessions.
Contact Dr. Shrink, 315 Washington St., Manistee, MI 49660. 800-968-5147; Fax: 231-723-9586. drshrink(at)dr-shrink(dot)com; http://www.dr-shrink.com.