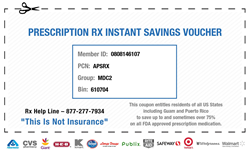 New York, NY (PRWEB) June 04, 2015
June is officially Men's Health Month, when men across the nation are encouraged to get physical exams and generally take better care of themselves. Many of the most common health issues among middle-aged and older men are preventable with the right screenings or treatable with prescription medications. To help men save money at the pharmacy, Medicationdiscountcard.com offers discount cards on all of the most frequently prescribed drugs for men.
Flomax
As men age, the prostate naturally grows larger, which inevitably leads to more frequent bathroom breaks. When frequent or painful urination is an issue, men should consult with their doctor, who will perform tests to distinguish between a natural, benign prostate enlargement and something more serious like prostate cancer. In the case of benign enlargement, Flomax works by relaxing muscles in and around the prostate. Men with enlarged prostates can print a Flomax coupon from Medicationdiscountcard.com today and save money immediately.
Plavix
Cardiovascular disease – a general term for a range of conditions – is the leading cause of death among both men and women, though men tend to develop the disease earlier than women do. Prevention is the best cure of course, but proper treatment during and after a heart attack or stroke can help men lead a full, normal life. Among those treatments is Plavix, a popular and effective tool in preventing blood clots before they happen. Medicationdiscountcard.com provides a free Plavix coupon for use by anyone with a doctor's prescription.
Lipitor
High LDL cholesterol is a major risk factor in stroke, heart attack and associated conditions, but these risks can be headed off at the pass. Men in their 40s should have blood testing performed about every two years; past 50, they should schedule an annual test. When blood screen results show numbers creeping into the "bad" range, Lipitor can bring these under control. Anyone taking medication for cholesterol should also begin making better lifestyle choices, such as reducing high-fat foods and getting more exercise. A long-term prescription is much more affordable with a Lipitor coupon from Medicationdiscountcard.com.
Viagra and Cialis
Viagra wrote its name into the history books when it was introduced more than 10 years ago. The blockbuster drug even helped earn its creator, Dr. Robert Furchgott, a Nobel Prize in Physiology and Medicine. Despite its market success, Viagra was not 100% effective for everyone – a small percentage of men were still frustrated. Enter Cialis, a more recent erectile dysfunction (ED) drug that has worked well in cases where other drugs like Viagra have failed. Cialis quickly became the second bestselling ED prescription medication in the world. Viagra and Cialis coupons are both available from Medicationdiscountdard.com
Note: The information above is intended to supplement, not substitute for, the expertise and judgment of your physician, pharmacist or other healthcare professional. It should not be construed to indicate that use of the drug is safe, appropriate, or effective for you. Consult your healthcare professional before using this drug.
About Medicationdiscountcard.com
Medicationdiscountcard.com was started to provide discounts on prescription drugs to those who need it most. Our goal is to provide you with the largest savings possible when compared to other cards. We invite you to compare the savings our card will provide to that of other leading providers.