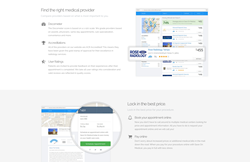 This is groundbreaking. It will change the way Americans shop for health care.
Tampa, Florida (PRWEB) June 03, 2015
Save On Medical (http://www.saveonmedical.com) launched their new mobile friendly website yesterday, to make shopping for health care procedures easier for patients on the go. The improved website has a fresh look and makes it easier to compare the prices and quality scores for medical centers around you.
Now, when patients search for the procedure they need (now offering prices for radiology and surgical procedures) they can see the provider's price and Docometer quality scores in the search results. Users can also sort providers based on things like evening or weekend appointments, free parking or accreditations.
President and Co-Founder, Matt Schneider commented on the Healthbox startup's newest update saying, "We wanted to make the website easier for all patients to use whether they have health insurance or are uninsured, especially patients in high-deductible plans, who are shopping around for affordable radiology and surgery options."
Launching later this summer, will be the Save On Medical "True Cost Calculator" which will be the second phase of the new website's launch. The "True Cost Calculator" will enable patients with or without health care coverage to find out the cost of a procedure to them.
"We'll be able to calculate patient responsibility by combining the provider's insurance billing information with the patient's coverage. This way patients can clearly see if it's more affordable for them to pay out-of-pocket or go through their insurance," Schneider comments. "This is groundbreaking. It will change the way Americans shop for health care."
About Save On Medical
Save On Medical is an online marketplace for medical procedures that uses price transparency to help patients make informed care decisions based on cost, quality or convenience —similar to the way Expedia does for travel. Providers are then able to advertise their pricing, collect up-front payment and fluctuate prices based upon demand. Save On Medical currently has about 25% of the country's outpatient imaging centers on their website and has helped patients across the country save an average of 74% on their medical bills.