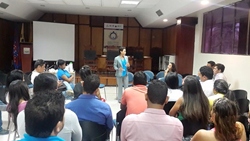 There is a dire need for attorneys to be trained to be human rights advocates.
GULFPORT, Fla. (PRWEB) June 03, 2015
"There is a dire need for attorneys to be trained to be human rights advocates and to represent the human rights of indigenous groups, workers, displaced people, and individuals who are vulnerable to human trafficking, forced servitude, slavery, and other violations of fundamental human rights," said Stetson University College of Law Professor Luz Nagle, who faced the Medellin drug cartel during her tenure as a judge in Colombia.
Professor Nagle has recently been appointed to the Council of the International Bar Association's Human Rights Institute, the world's leading organization of international practitioners, bar associations and law societies that works to promote and protect human rights and the independence of the legal profession worldwide.
Professor Nagle, who teaches courses including international and transborder criminal law at Stetson University, returned to her native Colombia April 26-May 1 to teach a course on international law and advanced international law at the Universidad del Norte. She also conducted two symposiums and participated in a university-wide conference and informal meetings with students and professors at the Universidad del Magdalena.
Professor Nagle's spring course at the Universidad del Norte covered the use of force, drone warfare, and transitional justice. She also met with Professor Shirlley Llain Arenilla LL.M.'09 to discuss effectively teaching international law topics.
"Colombia is awash in human rights issues," said Professor Nagle. "There are more illegal landmines deployed in Colombia than in any other country. Human trafficking for both sex tourism and labor servitude is out of control, particularly in Medellin, Cartagena, Barranquilla and Santa Marta. Multinational corporations fund private security forces to terrorize workers that try to unionize or protest labor law violations, child labor is epidemic especially in illegal mining operations, and children are forcibly conscripted into being child soldiers by the FARC guerrillas and paramilitary forces. Colombia has one of the highest displaced populations in the world, and paramilitary groups and the FARC guerrillas continue to commit blatant human rights atrocities against the civil population, even as the FARC conducts peace negotiations with the Colombian government in Havana, Cuba."
At the Universidad del Magdalena, Nagle served as a panelist in a symposium addressing human rights and the administration of justice that was attended by professors, university functionaries, and students in the master's program in human rights. She also participated in a second symposium on the topic of corporate and social responsibility for students. Professor Nagle wrapped up the day participating as a panelist in a conference on transitional justice, the Colombian peace process with the FARC, and human trafficking cases.