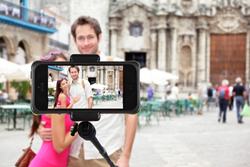 The Bluetooth Monopod Selfie Stick adds a level of professionalism and creativity you're not going to get shooting handheld.
Park City, UT (PRWEB) June 04, 2015
Known for their professional-quality range of tripods and steady cams along with digital camera and mobile device mounts, iStabilizer™ is expanding the benefits of a popular option, the "Selfie Stick." One of the sturdiest and most popular brands of Selfie Stick now has an unprecedented Bluetooth version, allowing users to snap shots without breaking the pose. Bluetooth Monopod is available for iPhone, Android and other devices, and runs $49.95 at iStabilizer.
The Bluetooth Monopod offers one incredible advantage for both amateurs and professionals looking to improve the quality of their photos: the ability to take pictures right from the stick. Instead of having to reach for the smart phone shutter button to take the picture, users can now snap photos with Bluetooth-enabled buttons right at their fingertips, improving angles, minimizing cumbersome torqueing and reaching, and allowing all parties in the photo to be full present and engaged.
Plus, with twist and lock technology and aircraft grade aluminum, Monopod also offers unparalleled strength and stability, supporting a range of smart phone types without danger of breakage or dropping.
"The Bluetooth Monopod adds a level of professionalism and creativity you're not going to get shooting handheld," Noah Rasheta, Founder & CEO of iStabilizer, explains. Not only does it enable you to use your smart phone for a wide variety of field applications – both professionally as well as for hobbies and vacations – it transforms the traditionally awkward and often-truncated selfie to a polished shot that appears to have been taken by someone else. Rasheta sums up, "The Bluetooth Monopod provides the reach to get to that perfect angle to capture the moment in its entirety."
iStabilizer Bluetooth Monopod features include:

Bluetooth technology to enable users to take photos right from the Selfie Stick
Collapses and extends to range between 14 inches and 3.1 feet
Rechargeable battery charges to capacity in 1 hour
More than 100 hours of standby time and 500 pictures before recharging becomes necessary
Compatible with iOS 5.0 and higher + Android 2.3.6 and higher
Fits all phone cases up to 3.5 inches
Product Page Link: iStabilizer Bluetooth Monopod "Selfie Stick"
Price: $49.95
Available: http://www.iStabilizer.com
All orders ship within 24 to 48 hours, excluding weekends. Though iStabilizer does ship internationally, they cannot guarantee an arrival time due to differences in national postal services. Most orders arrive within 4 to 6 days. You can find more details on shipping here. For information about iStabilizer and its products, you can contact PR representative Kevin Harris at (435) 565-4789 or by e-mail at kevin@istabilizer.com.
About iStabilizer
Park City, UT-based company iStabilizer specializes in camera and smart phone support that enable users to produce high-grade, professional-quality images with little to no training. Their wide assortment of products aims to give users the results of professional equipment with the ease and flexibility of small, commonly owned devices. Started and run by a small family team with an emphasis on consumer value, iStabilizer lives those values with a full one-year warranty on all products, a 30-day money back guarantee and personalized service any time during business hours.