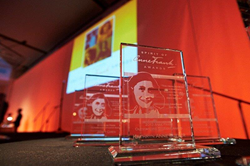 New York, NY (PRWEB) June 04, 2015
The Anne Frank Center USA is pleased to host its 19th Annual Spirit of Anne Frank Awards in honor of the "Helpers, Heroes and Liberators" of World War II. The awards ceremony will take place on June 15, 2015 at ESPACE – 635 West 42nd Street, between Eleventh and Twelfth Avenues. A cocktail reception and silent auction will begin at 6:00 pm, followed by dinner and the award ceremony at 7:00 pm. Tickets are available here.
Held annually on or near Anne Frank's birthday, the Spirit of Anne Frank Awards are given out each year to students, teachers, and citizens who have proven themselves to be exceptional leaders in combating the sort of intolerance, prejudice and injustice that Anne Frank and so many others faced.
This spring marks the 70th anniversary of the end of the war in Europe, as well as the liberation of the Nazi death camps and the death of Anne Frank. In honor of these monumental events, The Anne Frank Center USA will bestow the Anne Frank Distinguished Advocate Award to the "Helpers, Heroes and Liberators" of the war, including members of The Tuskegee Airmen and several veterans who liberated concentration camps and will be in attendance at the ceremony.
Erwin Pearl, who escaped war torn Vienna as a young man to establish Erwin Pearl, Inc., will receive the Anne Frank Distinguished Humanitarian Award.
Robert M. Edsel, author of "Monuments Men: Allied Heroes, Nazi Thieves and the Greatest Treasure Hunt in History" and the founder and Chairman of the Monuments Men Foundation for the Preservation of Art, will receive the Anne Frank Human Writes Award.
Stephen A. Cohen, Esq., Anne Frank Center USA Board Member, will receive the Anne Frank Spirit of Commitment Award.
In addition, several college-bound students will be awarded scholarships for their dedication to building a world based on tolerance, equality and social justice. Sheri P. Rosenberg, former Associate Clinical Professor of Law at Benjamin N. Cardoza School of Law, will be awarded the Anne Frank Outstanding Educator Award posthumously for her work on behalf of victims of genocide worldwide. For more information, please visit here.
Honorary Dinner Co-Chairs are Sharon Ruth Douglas, Elisa Rapaport, and Rev. Salomon L. Vaz Dias.
$500 for individual tickets. Table sponsorship also available. For more information, contact Sylvia Spitalnick, Director of Development, at 212-431-7993 ex. 304 or sspitalnick(at)annefrank(dot)com