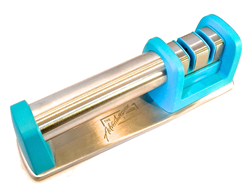 "When you have a knife sharpener on hand that's easy and quick to use, you're more likely to maintain your blades, and that not only makes food prep easier, but more fun. We're all about fun in the kitchen."
Kansas City, MO (PRWEB) June 08, 2015
The Adventuresome Kitchen, a premier kitchen webstore and gluten free cooking company, has launched a new knife sharpener as a companion to their USA Made, eco friendly line of cutting boards. The knife sharpener allows kitchenware and cooking enthusiasts to quickly sharpen and maintain their knives so that they can get the most out of their cooking experience.
"We wanted to design something that was fun and good looking as well as functional- something to make maintaining sharp knives a no-brainer, but that also kept fingers safe during the knife sharpening process," said Jennifer Robinson, founder and Chief Kitchen Diva of The Adventuresome Kitchen.
Robinson went on to say "People shy away from sharp knives because they're afraid of cutting themselves, when in actuality you're more prone to injury from a dull knife that slips off the food. When you have a knife sharpener on hand that's easy and quick to use, you're more likely to maintain your blades, and that not only makes food prep easier, but more fun. We're all about fun in the kitchen."
Robinson explained that The Adventuresome Kitchen's motto is 'Good Food First', and that good food starts with high quality cookware and kitchenware.
"People are eating more at home. And I love seeing someone who has been intimidated in the kitchen get really excited about producing delicious food. When that happens, suddenly it's fun to cook. Providing excellent utensils, and easy, accessible recipes is part of that. When you chop a tomato with a super sharp knife, it's a great feeling."
Shoppers looking for The Adventuresome Kitchen's new knife sharpener can purchase it via the Adventuresome Kitchen Webstore or directly from Amazon at: http://www.amazon.com/The-Adventuresome-Kitchen-Knife-Sharpener. The product retails for 19.95, but for a limited time customers can save 20 percent by entering code SHRPN399 at checkout. An informational video can be seen on The Adventuresome Kitchen's YouTube Channel.
"We believe this is the best knife sharpener on the market," Robinson stated. "We offer great value with all our Adventuresome Kitchen products and back them with a guarantee. In this day and age, we believe customers are looking for a personal touch and a commitment from companies to develop long-term relationships with them."
For more information visit AdventuresomeKitchen.com, or connect with the company via YouTube, Facebook, Instagram or Twitter.