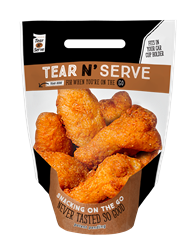 Lenexa, KS (PRWEB) June 16, 2015
Robbie unveils new Tear N' Serve™ Pouch designed for on-the-go snacking at the International Dairy Deli Bakery Show in Atlanta.
We've answered the consumer's demand to make on-the-go meal replacement and snacking experiences more convenient and enhancing product freshness.
The snacking occasion is growing as more consumers adopt a culture of bite-sized mini meals. Resealable and single serve packaging have come on strong in the market place the last year helping to promote consumption of snacks during non-traditional occasions, as well as helping to encourage the use of snacks as meal replacements.
Robbie's new Tear N' Serve™ is a portable packaging solution designed for consumers on-the-go. Its sleek profile is designed specifically for a car cup holder, and features a value added perforated tear-off top for easy snacking of consumers favorite fried food products. Patent pending for its unique design of a perforated tear-off top, this new pouch gives consumers the ability to tear-off the top of the pouch giving them ample space to reach in and enjoy their favorite snack foods.
Keri Olson, Robbie's Marketing Director says "we believe retailers will embrace the differentiation this new pouch offers from other rigid and paper options currently in the market. The new Tear N' Serve™ will transform any deli or prepared foods section into a snacking destination."
For over 40 years, Robbie's innovative packaging solutions have helped strengthen their customer's brand and recognition. Innovative design, improved operational performance, material source reduction and award winning pre-press services are just a few of the benefits that Robbie's customers enjoy. Robbie known for their Hot N Handy® deli line of packaging leads the industry in fresh solutions for food in the perimeter of the store.
Visit Robbie's website to learn more http://www.robbieflexibles.com.