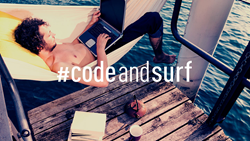 "We're excited to be offering the Code & Surf Retreat because it truly embodies the essence of CareerFoundry: learning and building great careers from anywhere in the world." - Raffaela Rein, CEO CareerFoundry
Berlin, Germany (PRWEB) June 04, 2015
Today CareerFoundry, a leading provider of online mentored courses in UX design and web development, kicked off its first ever Code & Surf Retreat Raffle. The sweepstakes, perfect for anyone interested in the digital nomad lifestyle or wanting to start a new career as a freelance web developer or UX designer, will give three winners the unique opportunity to learn to code while enjoying a week-long surf retreat in beautiful Santa Cruz, California.
"We're excited to be offering the Code & Surf Retreat," stated CareerFoundry CEO Raffaela Rein. "It truly embodies the essence of CareerFoundry: learning and building great careers from anywhere in the world."
Valued at $4000, the prize package includes accommodation at the Outsite House in Santa Cruz, enrollment in one of CareerFoundry's exclusive mentored courses in web development or UX design, surf lessons, one-on-one mentoring, and more. Winners will spend their mornings working closely with CareerFoundry's expert mentors-in-residence to solidify key UX design and web coding concepts. During this time, they'll also be able to focus on creating their own apps, building their portfolio, and networking and collaborating with other students. In the afternoon, winners can relax and enjoy surfing, beach yoga, hiking and BBQs.
This week of fun and sun will take place between Aug. 8, 2015, and Aug. 15, 2015. To enter, contestants need only signup at http://careerfoundry/codeandsurf/ from now through June 23, 2015.
Visit careerfoundry.com/codeandsurf for full details.
For direct inquiries about CareerFoundry and its programs, please contact:
Rosie Allabarton, Content Manager
rosie@careerfoundry.com
#codeandsurf
About CareerFoundry
CareerFoundry is the world's first online career accelerator for vocational tech skills. Taught by industry experts, their globally-accessible, mentored courses in web development and UX design provide career changers with the skills they need to launch new careers in technology. With online courseware, a vibrant and supportive student community and experienced mentors available remotely via Skype and on-platform messaging, students are able to study part-time, at their own pace, with a clear end result of a professional portfolio ready to take them into a new tech career.
careerfoundry.com
About Outsite House
OutSite House merges active outdoor lifestyles and creative work sessions into a new retreat concept designed for professionals, entrepreneurs, groups and digital nomads who want to get away and get focused.