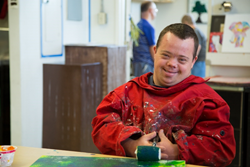 6000 miles. A documentary about the lives of individuals with special needs
San Diego, California (PRWEB) June 03, 2015
On May 30, four guys began their journey of traveling 6,000 miles – an experience that will change them for a lifetime. It may seem like just another cross-country road trip to the west coast, but it couldn't be further from ordinary. These four guys are part of "Guys Group," a social group for young men with developmental disabilities (DD). Developed by People Inc.'s Life Quality Coaching Department, the "Guys Group" helps participants discover and nurture their passions, build lasting friendships and develop important life skills so that they have increased opportunities to live and work independently.
With the assistance and support of two People Inc. life quality coaches, this trip is their chance to learn in action everything from planning and budgeting to safety and social skills – almost everything needed for an average tourism venture. In addition to the life skills being learned, this trip serves as milestone highlighting partnerships that will set an industry example of multi-organization collaborations.
The group will visit Grand Canyon, Las Vegas, as well as other DD agencies—all the while creating a documentary of their trip that will be previewed at the New York Film Festival. The west coast destination of the "Guys Group" is San Diego's very own TERI Campus of Life. Since 1980, TERI has served thousands of children and adults with autism & special needs. The "Guys Group" schedule at TERI will be jam-packed. They will visit TERI's residential homes (with a barn, chickens, & pigs!), two K-12 schools, music program, organic agriculture program, theater arts, therapeutic equestrian, and finally they will see TERI's new 20-acre property called the Campus of Life. When finished with construction in 2017, the campus will house all current TERI programs as well as the 1st of its kind vocational college for adults with developmental disabilities.
The "Guys Group" tour will be vising TERI's San Diego location on June 5th and June 6th. This trip is the first sponsored trip of its kind for People Inc and TERI. Their journey can be followed in real time on the Facebook page "Crossing Borders WNY." The trip will be documented on film and combined with footage of the group preparing for the journey.