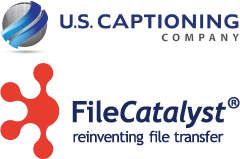 Implementing FileCatalyst has saved us time, which has increased our productivity and decreased stress
Ottawa, Canada (PRWEB) June 04, 2015
Emmy® Award winning Unlimi-Tech Software, Inc., creator of FileCatalyst, announces today that U.S. Captioning Company, a division of Country World Productions, Inc, has selected FileCatalyst Direct as the solution to meet their accelerated file transfer needs.
U.S. Captioning Company has been providing quality closed captioning services since 1999. U.S Captioning Company has been expanding their post production department to meet the growing needs of the new FCC guidelines that have been recently put into practice. There is now the expectation that any content delivered with more than 24 hours between taping and air needs to be closed captioned prior to airing. In addition, their real time closed captioning services must meet those quality guidelines for accuracy, and to monitor that, U.S Captioning Company requests air checks from their clients. Departments now need to move around large video electronically; files which cannot be broken down into smaller pieces or overly compressed.
Before using a FileCatalyst solution, U.S. Captioning Company were manually managing the files in their system, and relying on clients or vendors to confirm a file had completed uploading. With FileCatalyst Direct and the use of FileCatalyst HotFolder, a desktop application installed on the end-user's machine and which allows the creation of scheduled, automatic tasks, U.S. Captioning Company was able to create a hands-off process that routes all of their files to correct locations with an automated alert, as well as archives their content.
By implementing FileCatalyst Direct, U.S. Captioning Company is now able to send large video files securely and reliably, at speeds of up to 10Gbps. FileCatalyst has helped streamline their workflow, since employees no longer need to manually move a file for the majority of their file transfers. Plus, with email alerts, once a file transfer is complete there are no issues arising from moving an incomplete file. U.S. Captioning Company employees no longer have to spend time watching their FTP transfers, waiting to see if a file has been uploaded or not; delivery of files is guaranteed with FileCatalyst. When a file transfer is complete, each file is verified using MD5 checksum to ensure there is no data corruption. If a transfer needs to be resumed for any reason, such as a network interruption, FileCatalyst will perform verifications on the partial files and resume the transfer with no loss of data.
"Implementing FileCatalyst has saved us time, which has increased our productivity and decreased stress, all of which provide a cost savings to the company," said Jenny Carson from U.S. Captioning Company. "I am also pleased to say that every interaction with a FileCatalyst team member has been wonderful. Everyone has been friendly, knowledgeable, and prompt in communication."
"We have a great deal of media related customers and understand from that industry experience the pressures and conditions they face. Providing solutions to further enhance their workflows is something we want to supply at the highest quality," said Dave McKeen, Vice President of Enterprise Sales at FileCatalyst. "We are pleased that US Captioning selected FileCatalyst to be a core part of their business and look forward to supporting their growth."
About Unlimi-Tech Software, Inc.
Located in Ottawa, Canada, Unlimi-Tech is an Emmy® Award winning pioneer in managed file transfers and the creator of FileCatalyst, an accelerated file transfer solution. Founded in 2000, the company has more than one thousand customers in media & entertainment, energy & mining, gaming, and printing, including many Fortune 500 companies as well as military and government organizations. FileCatalyst is a software platform designed to accelerate and manage file transfers securely and reliably. FileCatalyst is immune to the effects that latency and packet loss have on traditional file transfer methods like FTP, HTTP, or CIFS. Global organizations use FileCatalyst to solve issues related to file transfer, including content distribution, file sharing, and offsite backups. To learn more visit filecatalyst.com or @FileCatalyst on Twitter.