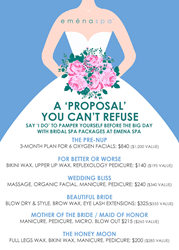 Miami, FL (PRWEB) June 03, 2015
Eména Spa in Miami Design District is now offering Spa Bridal Packages to provide the soon-to-be wives with proper pampering before their wedding day. Brides can now purchase The Pre-nup package which includes 6 oxygen facials for a 3 month plan to help prepare their skin and make sure they are glowing.
Other packages include For Better or Worse, Wedding Bliss, The Honey Moon and much more. Each consisting of spa services such as a bikini wax, upper lip wax, facials, manicure, pedicure, blow outs and more proposals that the bride-to-be just won't be able to refuse.
Wedding planners can contact Christina Kesaris at c(at)emenaspa(dot)com to learn more details.
4100 NE 2nd Ave. Suite 301 Miami, FL 33137 | info(at)emenaspa(dot)com