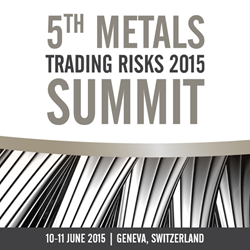 It's an IRN Summit!
London (PRWEB UK) 3 June 2015
In increasingly volatile markets, it is more critical than ever that metal traders are managing their risks in the most effective manner. The Metals Trading Risks 2015 Summit, held by IRN next week on 10th-11th June in Geneva at The Hotel Royal, will fully assess and show latest best practises in market, counterparty, regulatory, financial and supply chain risk affecting trading activity and how to adapt strategies accordingly.
The Summit will bring together metals traders from across the globe – trading houses, financial institutions, suppliers, consumers, alongside consultants, software providers, legal advisers and many others that will provide more information on price risk, hedging strategy, latest developments around regulations affecting trading (including EMIR, MiFID II, the Dodd-Frank Act and FMIA), credit risk and trade finance, or CTRM systems selection and implementation.
The 5th Metals Trading Risks 2015 Summit will analyse all these risks companies involved in metals trading are currently facing. The Summit will begin on the first day with an outlook on how the metals industry has developed over the past year, with focus on the state of European metal trading sector. This Keynote Address will be given by the Head of Commodities Research from Natixis, Nic Brown. The session will be followed by an update from the London Metal Exchange, led by Alex Shaw, Business Development Manager, who will analyse in detail how the Exchange has evolved over recent years.
Amongst the Speakers at this Summit are:

Ivan Nappo, Metals & Enegry Regulations Manager, Cargill
Nic Brown, Head of Commodities Research, Natixis
Salih Erturk, Metal, Hedging and Risk Manager, Nexans
Felipe Margueron, Credit Risk Manager, Vale International SA
Nicolas Jouglard, Head of Hedging Units, Rusal/RTI
Geert Van den Broeck, Director of Risk Management, Aludium
Sara Vernersson, Metal Risk Manager, Boliden Commercial AB
Łukasz Bielak, Market Risk Specialist - Hedging Department, KGHM
Hugues Watin-Augouard, Global Middle Officer - Copper Concentrates, Louis Dreyfus Commodities
Harry Knott, Head of Product Management, Brady
Alex Shaw, Business Development Manager, LME
Matt Wade, Head of Risk, LME Clear
Federico Cepeda, Global Commodities Director, Anheuser-Busch InBev SA/NV
Gianlorenzo Capitelli, Credit Director, Gerald Metals
Justin Roux, Head of Communications, Luvata
The 5th Metals Trading Risks 2015 Summit is sponsored by Brady plc, a provider of software solutions for global commodity trading. This Summit is also supported by the London Metal Exchange, the Geneva Chamber of Commerce, Industry & Services (CCIG) and the Minor Metals Trade Association (MMTA).
More information about this year's meeting, including speakers and agenda, can be found on the website: http://www.metalssummit.com