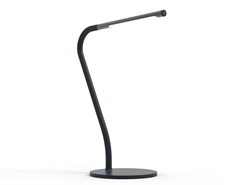 Chicago, IL (PRWEB) June 15, 2015
Mighty Bright, designer and manufacturer of innovative LED lighting products, will unveil the LUX Toronto LED Light, designed for corporate workplaces, hospitality environments, and residential interiors, at NeoCon. The Toronto will be exhibited in booth 7-6114 at NeoCon, the premier trade show for the commercial interiors industry, taking place June 15-17. The Toronto can also be seen online at http://www.lux-led-lights.com.
The new LUX Toronto LED Light is a modern modular light, available as a free-standing task light, a grommet task light, and a floor light. Casting 450 lumens of warm white, energy-efficient light, the Toronto illuminates commercial interiors while minimizing electricity costs. Designed with the user in mind, the malleable Toronto is easily plied to cast the light directly where needed. Additionally, the touch-activated Toronto has three brightness levels that enable users to customize their illumination. The Toronto's grommet base and task light base feature two integrated USB ports to charge phones, tablets, and other devices. Engineered for longevity, the Toronto's LEDs will never require a replacement bulb.
LUX Toronto LED Light features:

Modern LED task light with flexible Silicone body
Cutting edge, energy-efficient LEDs cast bright white light
Three brightness levels (450, 200, 20 lumens)
Touch activated
2 integrated USB ports (task and grommet bases)
Flicker-free, high-quality LEDs
Color temperature: 3000K
Input Voltage: 100-240
Colors: black, white
Power consumption: 6W
Efficiency: 65 lm/W
Color Rendering Index: 82
50,000 hours of continuous illumination
LUX LED Lights by Mighty Bright is the contemporary solution for task lighting. Utility and design are paramount for LUX LED Lights — fit a LUX Light into any space for an exquisite focal point or to brighten a dark corner. High performing LUX LED task lights reduce energy usage while enhancing spaces with exceptional style. Streamlined and sophisticated, LUX LED Lights are functional, eco-friendly and embody a simple aesthetic elegance, compromising neither form nor function.
Visit LUX Lights at NeoCon 2015
Visit booth 7-6114 to see the complete line of LUX LED Lights by Mighty Bright.